Trey Canard And Ryan Morais Injured In Severe Dodger Stadium Crash
Chaparral Motorsports
|
January 25, 2012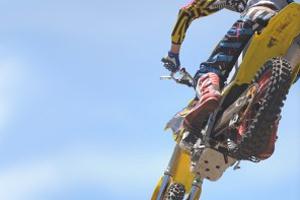 Riders Trey Canard and Ryan Morais are recovering after a nasty crash on the first jump of the Dodger Stadium Supercross this past weekend.

Just before the jump, Canard's bike got tangled up with one of the "Tuff Blocks" that form barriers around the edge of the track. The cover for the block came off and attached itself to the bike, which forced Canard to adjust his approach to the jump.

That surprised rider Ryan Morais, who was attempting a triple jump. Morais didn't know Canard would be where he was and landed directly on the Honda rider, with both going down hard.

Doctors say that Canard broke his back due to the accident, but it's unknown if he will require surgery. In a statement released by Honda, the manufacturer says that Canard has 100 percent feeling in his legs, as some feared he could have been paralyzed or suffer nerve damage due to the severity of the crash.

Morais, meanwhile, suffered a broken jaw in the collision.

Canard has been criticized by many, as it seems he is quite injury prone. In this case, however, he was simply the victim of bad circumstances, and is lucky to have escaped with only a broken back.