Valentino Rossi Versus Ferrari Racers At Wrooom
Chaparral Motorsports
|
January 19, 2012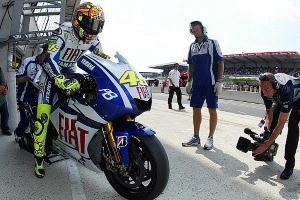 Valentino Rossi
hasn't been in the winner's circle in some time, as his Ducati team has struggled in MotoGP. However, the Italian rider picked up a nice win at Wrooom 2012 - although he wasn't on a bike.

Wrooom, which is held in Italy every winter, combines presentations by both Ducati and Ferrari, but the competitors like to have a little fun as well. This year, the teams competed in both a go-kart race and a rally with the new Fiat 500.

With Nicky Hayden still recovering from an injury, Rossi was up against Ferrari racers Felipe Massa and Fernando Alonso. Rossi earned some bragging points for Ducati by beating the Ferrari boys in the go-kart race. He also had the lead for much of the Fiat competition, but Massa pulled ahead of him in the closing moments of the race.

"Great, great, great," Rossi said when asked how it felt to win again. "Fantastic, fantastic. From the go-kart was a great race. I train a lot with the kart during the summer. And, unfortunately, with the car Felipe was faster, but anyway it was a great night."