Paulo Goncalves Hit With Six Hour Penalty After Controversial Move By Cyril Despres
Chaparral Motorsports
|
January 16, 2012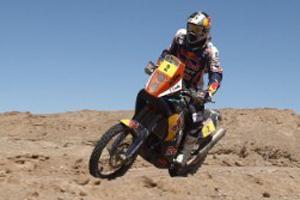 Team Husqvarna's hopes in the Dakar rally are all but over after the governing body behind the race handed out a massive penalty to one of its riders.
Penalties are a pretty big part of Dakar, and even top riders like Marc Coma and Cyril Despres have been slapped with 15-minute violations during the race. However, they're usually not quite as big as the punishment handed down to Husqvarna Rally Team by Speedbrain rider Paulo Goncalves.
Goncalves was riding on the eleventh stage of the Dakar rally when he hit a mudhole and crashed his bike. The motorcycle was stuck in the mud and the rider could not free it on its own. Here's where the controversy starts.
Race leader Cyril Despres came along and hit the same patch of mud. The two riders decided to work together, as they could not get either bike free on their own. However, once Despres' bike was free, he got on and rode away, leaving Goncalves stranded.
The Portuguese rider eventually needed help from onlookers to free the bike. However, this counted as "receiving outside assistance," which comes with a penalty of six hours, essentially ending Goncalves' rally.
Husqvarna still has Joan Barreda in the race, who is currently in fifth overall.