Danny Eslick Signs With Erik Buell Racing
Chaparral Motorsports
|
January 16, 2012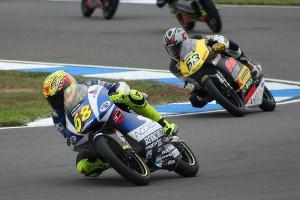 AMA Daytona SportBike Champion Danny Eslick has signed a contract with legendary motorcycle designer Erik Buell to ride in the 2012 AMA Superbike Championship, reports Cycle News.

Buell made his name in the industry designing custom motorcycles, and after a few years of working for BMW he's now back and on his own. His Erik Buell Racing team competes using their modified "EBR" bikes. Eslick will be riding on a brand-new EBR 1190RS for the 2012 season.

The signing is official, but Buell is holding back some of the key details of the deal until the sponsorship falls into place.

"Danny is going to be riding for us this year," Buell told the news source. "That's all we can say right now. We can't say anything more about the program until the sponsors group organizes their brands around the PR."

Last year, Eslick won the Daytona SportBike Championship with three wins and five podium finishes, beating second-place rider Josh Herrin by 19 points. The rider used a Suzuki GSX-R600 throughout the season, but he's ridden on Buell bikes before.

Eslick will be paired with the current Erik Buell Racing rider, Geoff May, whose bike will be sponsored by AMSOIL.