Cyril Despres Regains The Lead
Chaparral Motorsports
|
January 11, 2012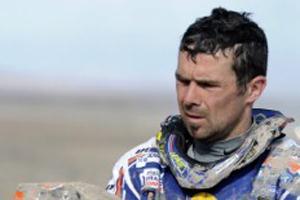 Just one day after getting stuck in the mud and surrendering his lead at the Dakar Rally to rival Marc Coma, Cyril Despres was able to put in a strong ninth day of riding and regain the lead.

Coma and Despres are far out in front of the rest of the pack in terms of time, with the next-closest riders nearly an hour behind. However, Coma and Despres are within mere minutes of each other.

The Frenchman had built up a significant lead going into the eighth stage, but lost it when he hit a mudhole. That allowed Coma to seize the lead once again, but Despres beat him by nearly four minutes on the ninth day in order to take the lead back. Despres now leads Coma by approximately two minutes.

"After a difficult day yesterday when you start to doubt, I had to get back to winning ways," Despres told Agence France-Presse. "We came into this looking at a battle for seconds or minutes. It's very competitive. Like any top level sportsman, if you don't like confrontation or squeezing the last ounces of strength out of yourself, then you're not ready for a fight. But, as for me, I'm up for it."