2012 AMA Supercross Anaheim 1 Results
Chaparral Motorsports
|
January 9, 2012
Ryan Villopoto Easily Wins Anaheim Supercross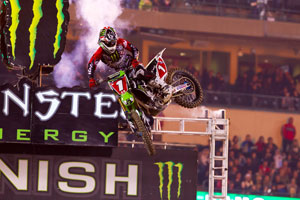 Ryan Villipoto didn't miss a beat this offseason - Photo by Frank Hoppen
2011 AMA Supercross champion Ryan Villopoto looked like he hadn't missed a beat this offseason as the Kawasaki rider easily ran away with the opening race in Anaheim.

Villopoto grabbed the holeshot and never really looked back during the race, ending a full 12 seconds in front of the next closest rider, Chad Reed. At the beginning of the race, the front of the pack consisted of Villopoto, Reed, Ryan Dungey and James Stewart, but mistakes by the latter three allowed Villopoto to build his lead quickly.

In the end, Reed grabbed second and Dungey finished a distant third. Stewart, meanwhile, lost his front motorcycle tire at one point, which caused him to fall all the way back to sixth place. Justin Brayton of Honda took fourth overall, while Villopoto's Kawasaki teammate Jake Weimer finished in fifth place.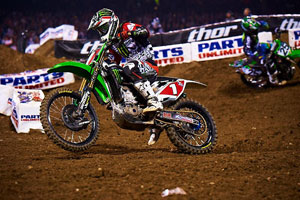 Ryan Villopoto easily ran away with the opening race - Photo by Frank Hoppen
"It was a phenomenal night for me," Villopoto told Cycle News. "I didn't have the best gate pick, but I got out in front and wanted to lay down fast laps. Overall, it was a great race for me."

Reed, in second place, spoke a bit more frankly about the race.

"Villopoto made us look silly out here tonight," he said.

Ryan Dungey Earns First-Ever Supercross Podium For KTM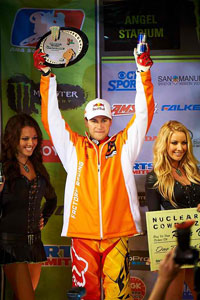 Ryan Dungey 3rd Place Podium - Photo by Hoppenworld.com
3rd place finish at Anaheim 1

Red Bull/KTM Factory Team rider Ryan Dungey finished 3rd overall at the opening round of the AMA Supercross Series effectively earning KTM's first-ever U.S. Supercross class podium finish.

Dungey looked impressive from the start of the first practice session on his newly released KTM 450 SX-F Factory Edition race machine. He qualified third fastest from practice and was placed in the second heat.

He nearly nailed the holeshot once the gate dropped for his eight-lap heat but was cut off as the riders rounded the first corner and dropped back to 3rd. He quickly passed Brett Metcalfe to move into 2nd behind Andrew Short at the end of the first lap. Dungey, Short and a hard-charging James Stewart soon found themselves in a three-way battle for the lead. Stewart made the pass to take over the lead position while Dungey and Short battled it out for 2nd place. Dungey was able to make the pass on the final lap to earn 2nd overall in the heat.

At the start of the main event, Dungey leaped out front early to earn another good start on his KTM. He rounded the first corner in 5th position and passed Mike Alessi for 4th within the first few turns. He continued his forward momentum making a clean inside pass on Ivan Tedesco on the third lap of the race to move into podium position. Out front, Ryan Villopoto led the way while Chad Reed sat in the runner-up position and Dungey sat approximately 5 seconds back in 3rd.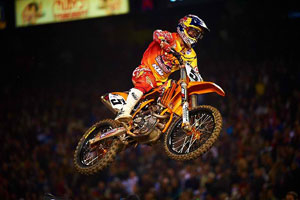 Ryan Dungey fought hard to capture KTM's first SX podium - Photo by Hoppenworld.com
Dungey spent the first half of the race closing the gap on Reed, turning lap times nearly a full second faster. On the ninth lap Dungey made a mistake and tucked the front end causing him to crash. He quickly recovered but lost his position to Stewart. On lap twelve, Stewart made a slight mistake that Dungey capitalized on and moved his KTM back into 3rd. On the next lap, Reed crashed which allowed Dungey and Stewart to close on him. The three riders then began a battle for 2nd place that ran for the next four laps.

The crowd was on their feet as the three battled it out swapping positions. On the sixteenth lap, Stewart crashed, marking one crash for each of them. Stewart's crash cost him a lot of time and he recovered in 6th position allowing Reed and Dungey to pull away. Dungey continued to pressure Reed for the remaining laps eventually crossing the line in 3rd just a bike length behind Reed.

Dungey's podium finish marked the first for the KTM brand in its U.S. Supercross racing history. It also marked the first podium for the new KTM 450 SX-F Factory Edition. "My bike ran flawlessly tonight," remarked Dungey after the race. "I would have definitely liked to pass Chad and take 2nd tonight, but I am happy to earn KTM its first podium. I can't thank the team enough for all they have done for me in the development of this new bike."

Red Bull/KTM Factory Team Manager Roger DeCoster commented, "The entire team is excited for the podium finish but we also know that 2nd place was within our reach tonight. We were happy with Ryan's performance but we know we have some areas that need work and we will begin to correct them immediately. We hope to continue this success into next week and improve our position on the podium."

James Stewart Gets 2012 Campaign Underway With 6th At Anaheim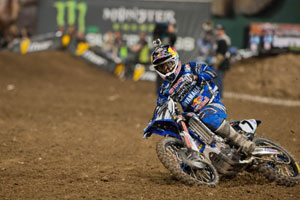 James Stewart overcomes crash to take 6th.
The 2012 AMA Supercross series was launched in front of a capacity 45,000 crowd at the Anaheim stadium in Los Angeles last weekend and Joe Gibbs Racing' James Stewart took his YZ450F to sixth position in the opening main event of seventeen on the U.S. calendar.

The former Champion endured a dramatic first evening of the season. He had marked the fastest lap-time in the second qualifier but was undone at the beginning of the 20 lap sprint when a poor start left him deep in the pack. Behind runaway leader and winner Ryan Villopoto, Stewart worked up to third position and then enjoyed a tight battle with 2010 champion Ryan Dungey.

The Floridian made a small mistake on the approach to a table-top jump and hit the hay bales at the side of the track, causing a crash and some light damage to his motorcycle. He was hit in the stomach by his handlebar but had no other problems. By the time he could rectify his radiator plastic shroud and regain his composure he had lost several places and needed to push again to reach sixth.

"James showed a lot of patience out there tonight," said JGR/Toyota Yamaha team manager Jeremy Albrecht.
"James showed a lot of patience out there tonight," said JGR/Toyota Yamaha team manager Jeremy Albrecht. "He didn't get the best of starts, but he did a really good job of being patient and catching the leaders without taking too many risks. But the track was changing a lot throughout the night and he just got caught out over there and landed in the Tuff Blox. He was missing a radiator shroud when he got up, and the front end was kind of tweaked, but he still made the most of it. Championships are won on your bad days, and this wasn't a good day, but he still salvaged sixth place. That's pretty good."

Ryan Morais and Davi Millsaps filled 15th and 16th places under the Anaheim lights. Ryan Sipes (5th spot) and Monster Energy Yamaha's Zach Osborne - completing several West Coast events as warm-up for the FIM MX2 World Championship - (9th) posted finishes on the YZ250F in the Lites division.

Round two takes place next weekend at Chase Field in Phoenix.

Source: www.yamaha-racing.com

Brett Metcalfe Just Misses Anaheim Top 10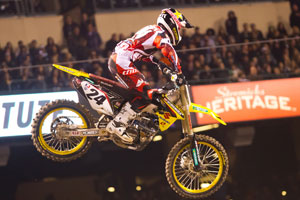 Brett Metcalfe put in a solid performance.
Yoshimura Suzuki's Brett Metcalfe just missed out on a top-10 finish in the opening round of the AMA/ FIM Supercross Championship at Angel Stadium in Anaheim on Saturday night.

The 27-year-old Californian, who missed most of last season's series due to injury, put in a solid performance aboard the 2012 RM-Z450, finishing sixth in his heat race.

Rockstar Energy Racing's Martin Davalos celebrated an impressive win in his heat race, but experienced some issues during the 250cc Lites Main Event and dropped out of the fray. But team mate Jason Anderson, after finishing seventh in his heat race, raced to seventh overall in the 15 lapper.

Jason Anderson raced to seventh overall in the 15 lapper.
"This was the first race of the season, so nerves were a little high," said Anderson. "But I had some good practice sessions. Then my heat race had a bunch of pile-ups, but I ended up doing pretty good and I made it to the Main. The gate-drop at the start of the Main was a little delayed and I struggled with that, but I came back and got seventh, so it was a decent night overall."

Supercross Points (after 1 round): CLICK HERE
Anaheim Image Gallery: CLICK HERE

Cole Seely Wins First AMA Supercross West Lites Race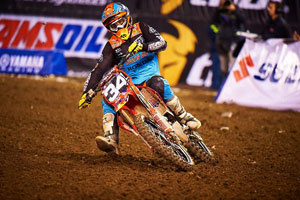 Cole Seely wins the first 2012 AMA Supercross West Lites race - Photo by Frank Hoppen
Cole Seely kicked of the 2012 AMA Supercross West Lites class with a win, finishing the race a large margin ahead of the rest of the field at Anaheim.

Seely, who races for Honda, did not dominate the race from the outset. In fact, it was Vince Friese who jumped out to an early lead. However, Friese didn't hold on for long before he was passed by Tyla Rattray and Dean Wilson, both of whom race for Kawasaki.

Yet Team Green could not make it a Kawasaki double after Ryan Villopoto took the 450 class. Seely overtook both riders at the end of the second lap and never looked back, building up an insurmountable lead.

"I couldn't think of a better way to start the season," Seely said. "To get a win here tonight in front of my family and friends is huge. I learned last year that consistency is key, and I hope to be on the podium at every race."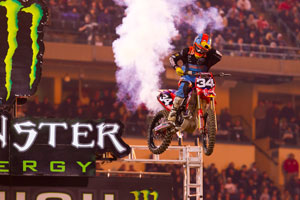 "I couldn't think of a better way to start the season," Seely said. - Photo by Frank Hoppen
Rattray held on to take second place, but Wilson ended up going down on the last lap and fell all the way back to sixth. Eli Tomac had a strong finish to get on the podium in third place.

Marvin Musquin Earns 4th In Supercross Lites Debut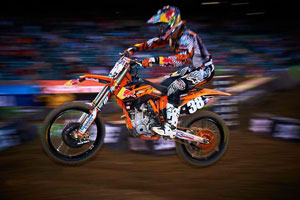 Marvin Musquin earns 4th in his Supercross Lites debut - Photo by Hoppenworld.com
Red Bull/KTM Factory Team rider Marvin Musquin earned 4th overall at the opening round of the AMA West Supercross Lites Series which also served as his professional Supercross racing debut.

The Frenchman traveled to the US to race as a member of the Red Bull/KTM Team at the end of 2010 and was injured in an unfortunate accident during an international race which disabled him from competing at any of the Supercross rounds. After a full-year to recover, Musquin showed up at Angel Stadium both excited and nervous. "I am so happy to be racing here in the U.S." remarked Musquin. "This has always been my dream and I can't wait to actually race at this stadium in front of the sold out crowd."

Musquin turned heads during the morning practice sessions when he turned the fastest lap time in the second practice and ended up 6th fastest at the end of the final session. His qualifying time placed him in the second heat of the night.

Musquin rounded the first corner in 5th in his heat and quickly moved into 4th after passing Travis Baker before the end of the first lap. He continued to improve his pace and soon found himself in 3rd position where he would finish and easily qualify into the main event.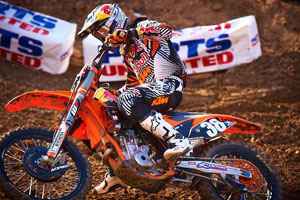 Marvin Musquin finally raced in his first Supercross event. - Photo by Hoppenworld.com
Unfortunately, the 30-second board girl turned the board early during the Supercross Lites main event which caused many riders to engage their clutch for double the normal time which badly affected many riders starts. Musquin was one rider who mentioned the issue but he still managed to pull a near mid-pack start around 11th place. He spent the next few laps catching and passing riders and was in 7th place by the third lap.

Continuing his charge through the pack, Musquin picked off Ryan Sipes on the sixth lap to move into 6th position. Wil Hahn crashed on the next lap to hand Musquin 5th place. Musquin held that position through the remainder of the race until Dean Wilson crashed on the final lap allowing Musquin to again capitalize on the mistake and gain a position. Musquin went on to finish 4th overall in his first U.S. Supercross Lites race.

"I am very happy tonight. I finally raced in my first Supercross event and I am happy with 4th overall. I was lucky some of the riders made mistakes tonight but overall I felt really good and my bike was great," remarked Musquin.

JDR/J-Star/KTM Race Report - Anaheim 1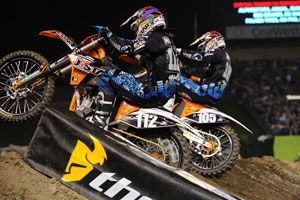 Ryan Marmont and Matt Moss double up on the jump - Photo by Hoppenworld.com
Moss Earns 11th in Supercross Lites Debut

JDR/J-Star/KTM Team rider Matt Moss finished 11th overall at the opening round of the AMA West Supercross Lites Series in his debut ride in the U.S. Supercross circuit.

Moss, the reigning 2011 Australian Motocross and SuperX Champion, signed with the JDR/J-Star/KTM Team to race U.S. Supercross to complete a dream he has had since a small child. "I am very excited to come to the U.S. and race and I am thankful my team has given me this opportunity," remarked Moss. "I have tried several times to come over here and race but I have always ended up hurt before the season started so I am grateful I am already off to a much better start this season."

Moss and his teammate, Ryan Marmont, were both slotted in Lites heat number two. It was Marmont who nailed the holeshot and pulled out front early. Marmont arrived to the U.S. only six days ago after receiving a phone call to ask if he wanted to fill-in for his teammate PJ Larsen. Marmont agreed to help support the team to put another KTM on the track but was uncertain of his conditioning as he had just had screws taken from his ankle a few weeks back. Although Marmont faded in his heat race, he rode as aggressively as he could to salvage each position. He eventually finished 9th overall in the heat to take the final transfer spot to the main while Moss qualified 5th.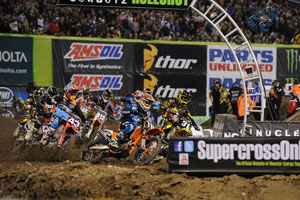 Ryan Marmont nails the holeshot - Photo by Hoppenworld.com
Both riders reported an issue with the 30-second board in the main event which badly affected their start. Both riders sat in near last position as they rounded the first corner. Marmont battled around 17th place for the majority of the race before eventually settling into the position through the finish. His teammate, Moss put on a more impressive charge through the pack to climb up to 11th overall by the end of the race just missing the top ten by one position.

"We are very happy for both our riders tonight," remarked Ramsey. "Although Marmont struggled in the main event, we were very excited he qualified and represented our team. He has only been able to ride the bike twice and we are happy with his progress. He will continue to improve each race as he gets more time on the bike," remarked JDR/J-Star/KTM Team Manager Nate Ramsey. He continued, "Matt had an excellent debut tonight almost breaking into the top ten. For his first Supercross race we are satisfied with this result and know areas we can work with him to improve for the future."

Anaheim 1 Overview And Point Standings
General Overview


Crowd: 45,050

Weather: Dry

Lap Record: 0'44.601 (Ricky Carmichael, 1/1/2006)

Last Years Winner: Ryan Villopoto

Next Event: Phoenix, AZ - January 14, 2012

Manufacturer Standings - 01/09/2012


Kawasaki - 25

Honda - 22

KTM - 20

Yamaha - 15

Suzuki - 12

Overall Results - Supercross Class: 20 Laps


Ryan Villopoto: 21:19.553

Chad Reed: +0:12.223

Ryan Dungey: +0:13.577

Justin Brayton: +0:30.470

Jake Weimer: +0:31.416

James Stewart: +0:39.904

Andrew Short: +0:40.786

Kevin Windham: +0:41.883

Mike Alessi: +0:43.686

Josh Hansen: +0:45.695

Brett Metcalfe: +0:53.764

Broc Tickle: +0:56.214

Ivan Tedesco: -1 Lap

Kyle Chisholm: -1 Lap

Ryan Morais: -1 Lap

David D Millsaps: -1 Lap

Jimmy Albertson: -1 Lap

Chris Blose: -1 Lap

Joshua Grant: -1 Lap

Thomas Hahn: -2 Laps

Overall Results - Supercross Lites Class: 15 Laps


Cole Seely: 16:09.600

Tyla Rattray: +0:4.059

Eli Tomac: +0:7.961

Marvin Musquin: +0:17.795

Ryan Sipes: +0:22.331

Dean Wilson: +0:23.736

Jason Anderson: +0:26.154

Wil Hahn: +0:27.745

Zachary Osborne: +0:35.296

Travis Baker: +0:36.997

Matt Moss: +0:39.476

Nico Izzi: +0:41.458

Teddy Maier: +0:45.920

Billy Laninovich: +0:54.865

Vince Friese: +0:59.402

Max Anstie: +1:01.255

Ryan Marmont: -1 Lap

Jackson Richardson: -1 Lap

Martin Davalos: -9 Laps

Christian Craig: -11 Laps

Point Standings - Supercross Class (Race 1 of 17)


Ryan Villopoto - 25

Chad Reed - 22

Ryan Dungey - 20

Justin Brayton - 18

Jake Weimer - USA 16

James Stewart - 15

Andrew Short - 14

Kevin Windham - 13

Mike Alessi - 12

Josh Hansen - 11

Brett Metcalfe - 10

Broc Tickle - 9

Ivan Tedesco - 8

Kyle Chisholm - 7

Ryan Morais - 6

David D Millsaps - 5

Jimmy Albertson - 4

Chris Blose - 3

Joshua Grant - 2

Thomas Hahn - 1

Point Standings - Supercross Lites West Class (Race 1 of 8)


Cole Seely - 25

Tyla Rattray - 22

Eli Tomac - 20

Marvin Musquin - USA 18

Ryan Sipes - 16

Dean Wilson - 15

Jason Anderson - 14

Wil Hahn - 13

Zachary Osborne - 12

Travis Baker - 11

Matt Moss - 10

Nico Izzi - 9

Teddy Maier - 8

Billy Laninovich - 7

Vince Friese - 6

Max Anstie - 5

Ryan Marmont - 4

Jackson Richardson - 3

Martin Davalos - 2

Christian Craig - 1