Yamaha Debuts New Line Of Casual Clothing, Jackets
Chaparral Motorsports
|
January 2, 2012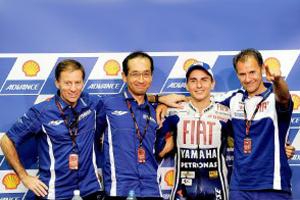 Nearly every major manufacturer offers motorcycle apparel for riders when they are on the bike, whether it's motorcycle jackets or racing leathers. However, sometimes riders want to represent their favorite company in their day-to-day lives.
Yamaha recently debuted their new line-up of casual wear, and it appears that there's something for just about everybody. The company has debuted six new t-shirts, including one [mageProductLink sku="028-03147-002-051" title=""]designed specifically for female riders[/mageProductLink], in a variety of colors and styles. The shirts retail for between $25 and $30.
The company has also come out with more expensive clothing for those who want something a bit nicer. The new Ergo Hooded Sweatshirt is designed by One Industries and features the Yamaha Racing logo on blue material. The company's [mageProductLink sku="028-39034-002-051" title=""]Paxen Jacket[/mageProductLink] is closer to a windbreaker and comes in the same blue coloring. These products sell for $70 and $90, respectively.
There are also options for those who want to look like an authentic member of the Yamaha racing team. The Team Yamaha Shop Shirt will sell for $75 and looks like something that a mechanic working for Yamaha Racing might wear. The $80 [mageProductLink sku="028-39033-002-051" title=""]Holland Jacket[/mageProductLink] is similar in that it wouldn't be out of place on the side of a MotoGP race.