Steve McQueen's Racing Suit Sells For Nearly $1 Million
Chaparral Motorsports
|
January 2, 2012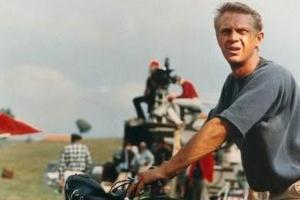 Motorcycle apparel
can sometimes be a bit expensive, but buyers have a broad range of options in just about any price range - including those who want to spend $1 million. That was the price recently fetched at auction for the racing suit worn by Steve McQueen in the 1971 film "Le Mans," reports Hemmings.com.

The white suit features orange and blue stripes, a number of patches, and the name "Michael Delaney" stitched into the sleeve, which was McQueen's character in the film. To put that price in perspective, the actual car that was used in the film - a vintage Porsche - only went for slightly more at the auction, selling for $1.25 million.

It was a nice cash-in day for Timothy Davies, who came to own the suit thanks to sheer random luck. McQueen gave the suit to the British newspaper The Observer four decades ago, and the then 12-year-old Davies submitted an entry and won. He held on to the jacket until this year, when he finally decided to sell. He expected to get approximately $300,000 for it, but wound up with more than triple that estimate when it sold for $984,000.