Victory Cross Lock And Ride Trunk Offers More Storage Space
Chaparral Motorsports
|
December 30, 2011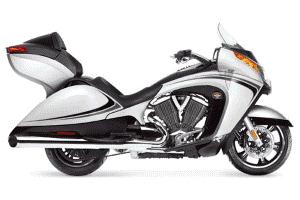 Those who ride cruisers often need some extra room for gear and other equipment, and this is why many riders opt to purchase motorcycle accessories like saddlebags and trunk add-ons that allow for extra storage space.

The Victory Cross Lock and Ride Trunk is one such accessory. Available as an option on 2011 Victory Cross Roads and Cross Country models, this larger trunk upgrades the back of the bike, allowing it to hold much more gear than the stock bike.

The trunk is spacious and can hold up to 30 pounds of gear. It's also wide enough to fit two full-faced motorcycle helmets, making it easy to ride with a partner. The front of the trunk comes with a backrest, which keeps things comfortable for any second rider.

Unlike aftermarket accessories, the Cross Lock and Ride Trunk is sold by Victory, which means it fits perfectly in terms of styling and color. It can also be locked and unlocked with the regular key that comes with the motorcycle, so there's no need to keep a full keyring just so riders can access their gear.

The Lock and Ride Trunk is available at motorcycle stores across the country, and is a good choice for riders who like longer journeys.