MotoGP Will Return To Jerez
Chaparral Motorsports
|
December 30, 2011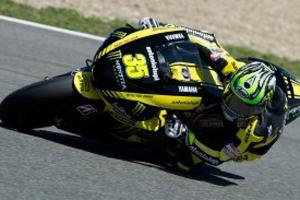 MotoGP organizers Dorna have announced a new deal reached with Circuito de Jerez, which will ensure that the track is on the schedule for the upcoming 2012 season.

Jerez' status as a MotoGP track has been up in the air lately, as the locale has been strapped for cash in recent years. Extensive renovations have left the owners of the track with more than $50 million in debt. The track also owes Dorna nearly $7.75 million Euros.

However, the groups struck a deal that will ensure the second race of the season will still be run at the track, with the race scheduled for April 29th. Once again, Jerez will be the first European track in the competition.

"We are delighted to confirm that the 2012 Grand Prix of Spain will be held at the Circuito de Jerez, a very special locale for the MotoGP World Championship," Dorna CEO Carmelo Ezpeleta said in a statement. "I'd like to thank the Junta de Andalucía and Jerez de la Frontera City Council for their support in working toward securing this iconic event. We'll now look ahead to the future of the event and focus on working together to reach an agreement up until 2016."