Illinois Bikers Will Be Able To Run Red Lights In 2012
Chaparral Motorsports
|
December 29, 2011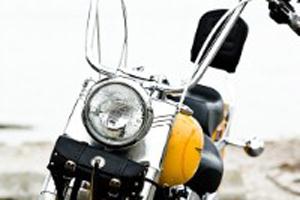 Many intersections have sensors built into the roads to detect the weight of vehicles so drivers are not sitting perpetually at red lights. This is great for side roads on busy highways so the main flow of traffic is only interrupted as needed, but many motorcyclists may have noticed that the weight of their bikes is not enough to trip the sensors.
A new law that addresses this issue will soon take effect in Illinois and a few other states. Local news station WFIR-TV reports that motorcycle riders will soon be able to run red lights in the appropriate situation. Rather than waiting for a car to activate the traffic light, motorcycle riders will be able to pass through an intersection after a reasonable amount of time has passed. Some believe that this new law will be unsafe, but others defend the law.
"Motorcyclists should see the car, even at night the lights would be on the car and it is a safety issue of course," Mel Kegel, the office manager of Kegel Harley-Davidson, told the station's reporters. "But generally speaking, people who drive motorcycles are very defense-oriented, they drive defensively and they're going to be looking for oncoming traffic."