AMA Pro Flat Track Championship Announces Schedule
Chaparral Motorsports
|
December 23, 2011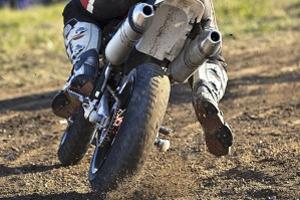 The 2012 AMA Pro Flat Track Championship has announced its partial schedule for next season, with 16 races officially confirmed and three still in negotiations.
As always, the competition kicks off at Daytona on the weekend of March 15th, with a doubleheader. The final round will be held on October 13th at the Pomona Half Mile at the LA County Fairplex.
Of the current races on the schedule, 10 will be Grand National Twins races, including five mile-long races and five half-miles. The other six will feature the 450cc class, with three TTs and three short tracks. All races on the schedule will include the Pro Singles class, which showcases the up-and-coming young riders in the sport.
Highlights of the schedule include a whopping four races in Springfield, two in May and two in September. The Indy Mile will return this year after a last-minute cancellation this past season, and will run on the weekend of the Red Bull Indy MotoGP on August 18th, according to Cycle News.
All that's left is for AMA to fill the three holes in the schedule, with unannounced tracks still in negotiation for races on June 9th, September 15th and October 9th.
2012 Grand National Championship Schedule
Race
Location
Date
Round 1
Daytona Short Track I
DAYTONA Flat Track
Daytona Beach, FL
March 15
Round 2
Daytona Short Track II
DAYTONA Flat Track
Daytona Beach, FL
March 16
Round 3
Springfield TT
Illinois State Fairgrounds
Springfield, IL
May 26
Round 4
Springfield Mile
Illinois State Fairgrounds
Springfield, IL
May 27
Round 5
TBA
TBA
TBA
June 9
Round 6
Lima Half-Mile
Allen County Fairgrounds
Lima, OH
June 30
Round 7
Hagerstown Half-Mile
Hagerstown Speedway
Hagerstown, MD
July 7
Round 8
I-96 Half-Mile
I-96 Speedway
Lake Odessa, MI
July 14
Round 9
Sacramento Mile
Cal Expo
Sacramento, CA
July 28
Round 10
Castle Rock TT
Castle Rock Race Park
Castle Rock, WA
August 4
Round 11
Peoria TT
PMC Race Park
Peoria, IL
August 12
Round 12
Indy Mile
Indiana State Fairground
Indianapolis, IN
August 18
Round 13
Springfield ST
Illinois State Fairgrounds
Springfield, IL
September 1
Round 14
Springfield Mile II
Illinois State Fairgrounds
Springfield, IL
September 2
Round 15
Knoxville Half-Mile
Knoxville Raceway
Knoxville, IA
September 8
Round 16
TBA
TBA
TBA
September 15
Round 17
Santa Rosa Mile
Sonoma County Fairgrounds
Santa Rosa, CA
September 30
Round 18
TBA
TBA
TBA
October 6
Round 19
Flat Track Finale
LA County Fairplex
Pomona, CA
October 13