Schwantz School Will Allow All Bikes
Chaparral Motorsports
|
December 21, 2011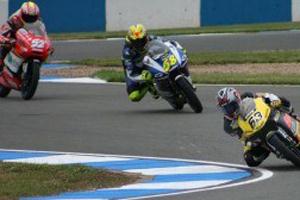 The Schwantz School is one of the more famous motorcycle racing schools in the country, and riders come from all across the country to learn from Kevin Schwantz and his crew. This year, the school is moving from Barber Motorsports Park to Road Atlanta, and attendees will also have the option to bring their own bikes for the first time, reports Cycle News.
In the past, students were expected to use the school's own fleet of Hondas and Suzukis, but many said that they would rather learn on the bike that they would be driving on a regular basis, prompting Schwantz to make the change.
The reason that students were previously encouraged to use the school's bikes, oddly enough, had to do with motorcycle tires.
"We always had people wanting to come and bring their own bikes," Schwantz told the news source. "It's almost cost prohibitive to bring your own bike, because it's only a couple hundred bucks cheaper and if you're going to come ride for two days, have a set of decent [Michelin] tires on, you're probably going to use the best part of those tires up and those tires are probably $300-400 a set."
However, Schwantz ultimately realized that riders should have the option, so they're now allowed to bring their own bike of any brand for the price of $1,799. The normal school, using their bikes, costs $1,999.