Ben Bostrom Back With Michael Jordan
Chaparral Motorsports
|
December 19, 2011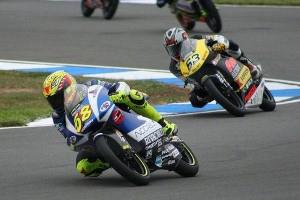 Michael Jordan Motorsports enjoyed a good run in the final four races of the AMA Superbike season, when Ben Bostrom and Roger Lee Hayden combined to give the team multiple podium finishes, ending the year on a high note. The team is now hoping to carry that chemistry into next year, as it was recently announced that both Hayden and Bostrom have re-signed with the team.

Hayden's deal was announced several days ago, and now the team has revealed that Bostrom has signed on the dotted line as well, according to Cycle News. The team is also trying to keep the technical crew intact as they hope to replicate their late-season success.

"Yes, we definitely wanted to roll into 2012 having the riders we ended the season with to have that continuity," Jordan Suzuki's Rich Alexander told the news source. "The team hasn't really had two riders back-to -back that we ended the season strong with. We thought it would be great to continue into the following year with them and keep that going."

Alexander told the news source that the team always wanted to bring back both Bostrom and Hayden. However, he revealed that if either had backed out, the team would try to go out and sign Tommy Hayden, Roger's brother.