Blind Man Attempts To Set Motorcycle Jump Record
Chaparral Motorsports
|
December 14, 2011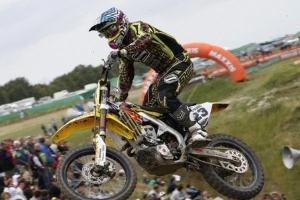 When it comes to extreme motorcycle stars, Matt Wadsworth is not exactly at the top of the list. For starters, he's not a professional motorcycle rider - Wadsworth is actually a musician by trade, trained in the lute. Wadsworth is also 37 years old, not exactly as young as some of the other daredeveils who try death-defying leaps. And he's also blind.
The new documentary "Renaissance Man" chronicles Wadsworth's attempts to set the Guiness World Record for longest jump on a motorcycle by a blind person, with the current record at 81 feet. Wadsworth has been training with former 125cc Motocross National Champion Micky Dymond, who is coaching Wadsworth by voice as he tries over and over to get the jump right.
It's a difficult task for a seasoned motorcycle veteran with full sight - but it's doubly hard for Wadsworth. The rider says he used body-armor reinforced motorcycle gear in order to practice, as the first times he did the stunt, he fell quite often. Gradually, however, he's learned to take vocal cues from Dymond and gotten used to the bike to try for a world record attempt, which he is planning to do this month.
"The challenges that I've set myself and overcome in life, I've always used this approach," Wadsworth says in the documentary. "Which is to have an idea, have a very clear goal that you're shooting for, and then be prepared to figure out the stuff as you go. And don't always expect it to be easy. And don't give up if it's not."