Side-By-Sides Gaining In Popularity
Chaparral Motorsports
|
December 13, 2011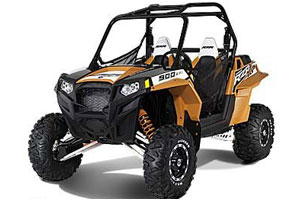 A recent article in The New York Times focused on the explosive growth of side-by-sides, as more riders choose these vehicles rather than single-rider ATVs.
The chief draw of side-by-sides, according to the article, is the fact that they can hold more than one person. For families or those who plan to go exploring with their friends, that usually makes more economic sense than shelling out for multiple ATVs.
"Whenever I'm not working, we are on it," said Chris Liconti, who takes his wife and 2-year-old son on this trips. "There's no more family feud, 'Oh, Dad is going out riding.'"
While ATV sales have decreased by two-thirds compared to their peak, which was in 2004, side-by-sides are on track to rise 15 percent this year, the news source reports.
"I went from selling roughly two to four side-by-side vehicles in a year to now I sell four a month," John Recinti, a Polaris side-by-side dealer in New Jersey, told the news source. "It's insane."
Ten years ago, approximately 100,000 side-by-sides were sold each year. That's now up to 240,000, compared to 330,000 ATVs sold each year. Some analysts believe that side-by-sides will one day become more popular than ATVs, according to the news source.