ATVs Help Farmers Get The Tough Jobs Done
Chaparral Motorsports
|
December 13, 2011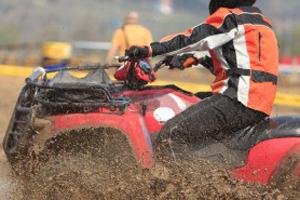 In the area around Black Hills National Forest in South Dakota, most ATV usage tends to be recreational, as the park is a popular area for riders to explore. However, while ATVs and other off-highway vehicles can certainly be found on the weekends, the Rapid City Journal reports that many of the farmers around the area use the vehicles for doing work as well.
"The wider ones are useful for most of the fencing," farmer Kelly Blair told the news source. "You can haul steel posts and wire and all the tools you need. Plus, you can get into rougher ground where you wouldn't be able to get with a truck."
Blair has firsthand experience with using his ATV on difficult terrain. When a cow became stuck in the mud, the ATV was the only vehicle he had that could gain traction while also having the strength to pull the animal out without hurting it, he told the news source.
Of course, farmers in South Dakota are not the only ones who have discovered the usefulness of ATVs on the farm. All the major manufacturers offer models that are suited for this purpose, most of which are referred to as utility vehicles.