AMA Names Nancy Sabater 2011 Motorcyclists Of The Year
Chaparral Motorsports
|
December 13, 2011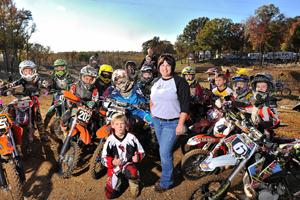 Nancy Sabater, a motorcyclist from Charlotte Hall, Maryland, was recently given the honor of being named the 2011 Motorcyclist of the Year by the American Motorcyclist Association (AMA). She was chosen for her hard work fighting proposed federal 'lead laws' that would have banned the sale of kids' dirtbikes and ATVs that contain trace amounts of lead. in certain motorbike parts and ATV accessories, even though they don't present a serious risk to children's health.

"A number of partners had a hand in our victory over this misguided law - the motorcycle industry, race promoters, parts distributors and others," said AMA President and CEO Rob Dingman. "But it's Nancy and those like her - the individual enthusiasts - who truly put the rubber to the road, gave our cause a face in the crowd and brought this victory home. They were the most influential motorcyclists of 2011, and AMA member and grassroots activist Nancy Sabater is the AMA Motorcyclists of the Year for her stellar work on behalf of families and kids."

Sabater was heavily involved in efforts to stop the laws from going into effect - she produced a number of videos featuring racers and motocross industry insiders speaking out against the legislation. She also took part in the AMA Family Capitol Hill Climb last May, where families and riders gathered to lobby politicians.