Alastair Seeley Returns To British Superbike
Chaparral Motorsports
|
December 12, 2011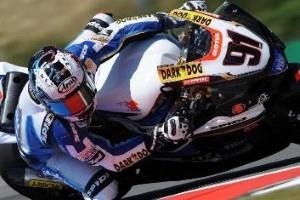 After a year in the lower British Supersport, Alastair Seeley has announced his return to British Superbike, where he has signed with the Tyco Suzuki team.

Seeley opted to drop down to the lower tier for the 2011 season, but quickly proved that he belonged back in Superbike. Seeley raced in British Superbike in 2010 and was one of the six riders vying for the title. He then raced Supersport last year, winning the championship and spurring talk of a move back up to the Superbike competitions.

That move came when Tyco announced that it had chosen Seeley to pair with their other rider, Josh Brookes.

"I'm very excited to be back with the TAS team for another year, especially getting back on a Superbike, and I'm equally excited about the new Tyco Suzuki colours," Seeley told AllAboutBikes. "The bike looks really well. Once we get some pre-season testing done my aim will be to try and win the championship; that really is my only goal. I think the new rules in BSB will be in my favour, having already won two championships without electronic aids, and I have every confidence in the boys at TAS to give me the best possible package."