JT Racing Signs With MotoConcepts For 2012
Chaparral Motorsports
|
December 9, 2011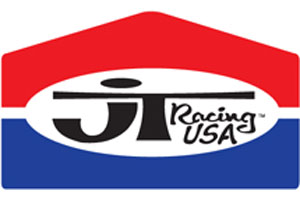 MotoConcepts Team to Debut JT Racing Gear to Media at Milestone MX
JT Racing is proud to announce its sponsorship of the MotoConcepts race team! Supercross racers Mike Alessi, Jeff Alessi, Tommy Weeck, Jake Canada and Vince Friese are ready to kick off the 2012 AMA Supercross season decked out in JT Racing gear. The official MotoConcepts/JT Racing gear will break cover on Monday, December 12 at Milestone MX where all five racers will take to the track and debut the gear for industry press.

"For the first time since the mid '90's, JT Racing will be back in Supercross stadiums," commented JT Racing CEO David Dray. "We are thrilled to put our support behind riders like the Alessis and the entire MotoConcepts team. It's a great showcase for the retro style and modern innovation that are bringing the JT brand back into the spotlight."





JT Racing was not only the dominant gear brand of the 70's and 80's, but also the originators of the very idea of dedicated motocross gear. The company has now risen from a decade-long hibernation, and is poised to re-emerge as a premier brand in motocross and off-road. The Alessi's, Weeck, Canada and Friese will show off the latest from the iconic brand on Monday at Milestone MX. Look for photos next week of all five racers in the MotoConcepts/JT Racing [mageProductLink sku="jt02100104" title=""]Pro-Tour MX Jersey[/mageProductLink], high-tech [mageProductLink sku="jt03100128" title=""]Classick ALS MX Pant[/mageProductLink], performance [mageProductLink sku="jt04000107" title=""]gloves[/mageProductLink] and ALS-O2 Helmet.

ABOUT JT RACING USA
Launched by John and Rita Gregory in the late 1960's, JT Racing ruled the motocross world for decades. It was the gear of choice for racing legends like Smith, Sun, Vimond, Lechien and Bailey. For 2011, JT Racing returns to the sport it helped build with an innovative line of motocross gear: pants, gloves, jersey and a trick new helmet not only reminiscent of the ground-breaking ALS-2 of the early 1980's, but one that will make you rethink helmet technology entirely. With many past champions - Glover, LaPorte, Lechien and Hansen - developing, testing and promoting the new line of gear, JT Racing is poised to unleash the style and innovation that will once again become the gold standard in motocross. JT Racing USA - History. Innovation. And heart.
Source
- JT Racing USA