Riders Can Show Off Their Allegiance To The Dark Side With Star Wars Motorcycle Gear
Chaparral Motorsports
|
December 8, 2011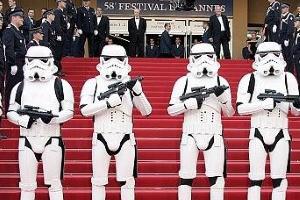 Even Luke Skywalker would have found it difficult to resist joining the dark side had he been able to don Stormtrooper motorcycle gear, and now Star Wars fans can express their passion for the movie trilogy wherever they go.

UD Replicas recently came out with a line of Star Wars Imperial Army outfits that mimic the Stormtrooper and Shadow Trooper and are designed for bikers. SlashGear.com reports that the uniforms are made with built-in body armor that has been approved for use on the road, so riders will be protected from the elements on their way to the Death Star. The armor, which includes a back spine protector, can be easily removed so riders can wear their outfits comfortably at the Star Wars convention.

They are also made of high-quality leather, and a full set includes a motorcycle jacket, boots, pants and gloves. The jacket and pants zip together, and the forearm, bicep, thigh and shin areas are all adjustable for the perfect fit. Stormtrooper and Shadow Trooper motorcycle helmets are not yet part of the collection, unfortunately.