Honda Recalls Gold Wing For Potential Fire Issue
Chaparral Motorsports
|
December 6, 2011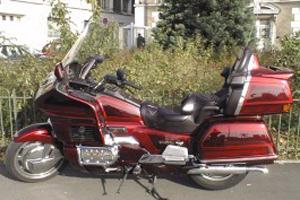 Honda is recalling more than 100,000 Gold Wing models for an issue related to the rear brakes, which could potentially lead to a fire in the vehicles.

The recall covers approximately 126,000 units, including all versions of the GL1800 made between 2001-2010, as well as 2012. The 2011 Gold Wing is apparently unaffected by the issue.

Honda says that the issue is related to the bike's secondary master cylinder, which is apparently building up an unsafe amount of heat in some instances, according to The New York Times. Honda said that it first began investigating the issue when one of their customers reported going for a ride, parking his bike and walking away, then hearing a small explosion. When he went back to the bike, the rear of the vehicle was completely on fire.

Honda investigated the issue for nearly 16 months before tracing it to the rear brake. The company says it has received reports of 26 issues with the rear brake, resulting in two fires and no injuries.

"Continued riding with the rear brake engaged/dragging may generate enough heat to cause the rear brake to catch fire," Honda said in a statement.