Florida ABATE Toy Run Draws 5,000 Plus
Chaparral Motorsports
|
December 6, 2011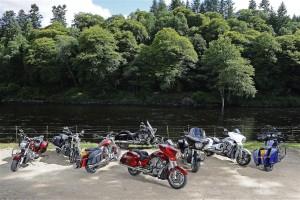 During the holiday season, many motorcyclists take some time out of their schedules to give back to the community. All across the country, riders rally together for massive toy runs with the aim of helping out local families in need.

One of the largest in the country is put on by ABATE of Florida, which has been organizing their toy run for 30 years. This year, the charity event drew an estimated 5,225 bikers from across the state, according to Florida Today.

The bikers took over Route 250 and Route 1 for what turned into a multi-hour motorcycle parade with police escort as they rode to deliver the toys. When all was said and done, the group had filled four 26-foot long U-Haul trucks with toys, which will be distributed to local families.

"It's amazing. Bikers in past years have kind of had a bad rap - Hell's Angels and all," motorcycle dealer Geoff Bodine told the news source. "But this shows that bikers are good, caring, giving people."

Mike Pope, president of the ABATE chapter, commended the bikers for stepping up, even with the economy in rough shape.