Extreme Motorcycle Stunt Goes Wrong, Rider Walks Away Unscathed
Chaparral Motorsports
|
December 2, 2011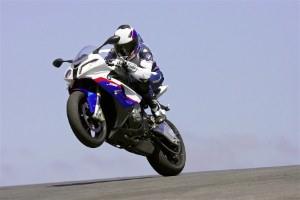 A motorcycle stunt gone wrong at a theme park in Brazil resulted in an extremely scary moment, but the rider miraculously walked away from the incident unscathed.
Denis Borges and Anderson Sanches are professional stunt riders at Beto Carrero World theme park in Penha, Brazil. One of the stunts involves the two riders popping wheelies as they drive directly toward three oncoming cars - the idea is for them to slip in between the two cars. Both riders have performed this particular stunt hundreds of times, but things went wrong on November 21st.
Borges misjudged the distance and couldn't pull out of his wheelie in time, clipping one of the speeding cars head-on. He flew approximately 40 feet through the air and rolled another 40 feet after hitting the crowd, to the horror of the crowd.
Somewhat inexplicably, Borges, who was wearing a motorcycle helmet and armored gear at the time, was completely uninjured. In fact, he returned to work the next day.
The theme park defended the stunt in a statement.
"The drivers are professionals who already have more than 10 years experience and rehearse their maneuvers on a daily basis," Beto Carrero World wrote. "It was a really scary accident, but it also served to show how extreme the show is."