Zero Motorcycles Sponsors Charity Golf Tournament
Chaparral Motorsports
|
December 1, 2011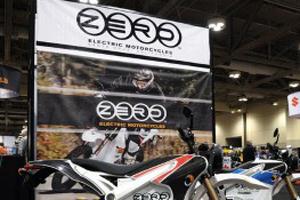 Zero Motorcycles is one of the leading electric motorcycle manufacturers on the market today, and their visibility seems to be increasing as interest in the technology grows more and more popular. Based in San Francisco, it was no surprise that the company was given a call when Bay Area legends Steve Young and Jerry Rice were putting together sponsors for their annual Bay Area Classic, a charity golf tournament that supports the former quarterback's Forever Young Foundation.
One of the highlights of the event was a chipping contest before the main tournament got under way, for which Zero provided the grand prize: a brand-new, $10,000 all-electric DS motorcycle. The chipping tournament ended in a four-way tie, and had to go to a playoff. In the end, it was Steve Strawbridge, Vice President of Merchandising for the NFL Hall of Fame, who ended up riding home in style.
"It was wonderful to have Zero participate as a generous sponsor of our Steve Young/Jerry Rice Bay Area Classic," said Sterling Tanner, president of the Forever Young Foundation. "This is a very high-end event with donations ranging from $25,000 to $100,000, so to have Zero give away such a valuable prize was a perfect fit. The motorcycle was a big hit with our guests and it certainly created a lot of excitement when they realized that one of them would be taking it home."