Colin Edwards Tests CRT Bike In Jerez
Chaparral Motorsports
|
November 30, 2011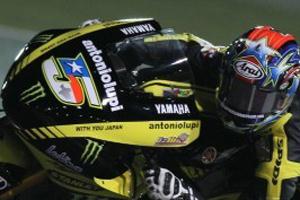 With the Claiming Rule Teams (CRT) set to race in MotoGP next year, one of the big questions on fans' minds is how competitive the bikes will be. An early indicator of the CRT's potential was given when American rider Colin Edwards tested his new CRT bike for the first time in Jerez, Spain.

Many of the CRT teams do not have the advantage of having a seasoned veteran like Edwards at the helm of their bike, so many fans were watching Edwards for an indication of the CRT team's chances against factory-backed competition.

Edwards finished just .03 seconds ahead of the fastest Moto2 bike, and a full two seconds behind his previous best time on the course. While that might seem a bit disappointing, it was Edwards' first time on the bike, and the team's first real attempt at testing it.

The American rider told Cycle News that the team "has a lot of work to do," but also said that the ride was "better than I was expecting."

"We know where the thing has mountains of power, we just have to figure out how to spread it throughout the powerband, make it a little smoother," he said.