Suzuki Issues Official Statement On MotoGP Exit
Chaparral Motorsports
|
November 29, 2011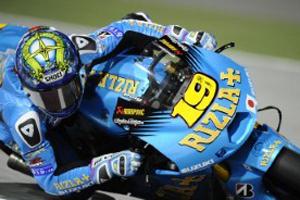 Although Suzuki's exit from MotoGP was essentially confirmed through a leaked email to members of their racing team, the company itself has been silent on the issue for several weeks. Now, the brand has finally issued an official press release announcing their departure.

The brand said that it would be shutting down operations for the 2012 and 2013 seasons, with an eye on returning to the fold in 2014. The press release stated that the chief reasons for the move were ""tough circumstances mainly caused by the prolonged recession in developed countries, a historical appreciation of Japanese yen and repeated natural disasters."

Of course, there are other reasons as well - namely their lack of a competitive bike. MotoGP is switching to 1000cc engines next year, and Suzuki's development of the GSV-R1000 has been continuously delayed. In fact, before the brand pulled out of the competition, they were planning to start the year on the GSV-R800, which would have put them at a significant disadvantage.

Suzuki said it would be continuing to develop its sport bikes, and the decision only affects MotoGP, not competitions like AMA Superbike or World Superbike.