Stefan Bradl To MotoGP
Chaparral Motorsports
|
November 29, 2011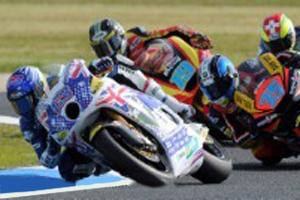 Moto2 World Champion Stefan Bradl is moving on up.

Many riders come to MotoGP through the Moto2 class, and winning the championship in that competition as Bradl did was sure to turn some heads. As it turns out, Bradl caught the attention of LCR Honda, which is entering its seventh year in the competition. Owned by former rider Lucio Cecchinello, the team is hoping to use its experience and Honda support to rise up through the ranks of the elite competition.

The team reportedly had several riders in mind, but Bradl impressed the group during the recent test in Valencia, Spain, prompting the team to sign him to a two-year contract.

"This is simply fantastic, like a dream that comes true," said Bradl. "When I tested the RC212V in Valencia I realized that LCR Team is very professional and well organized so I am sure they will do their best to support me. Making my debut in the premier class aboard the RC213V is great and I can not wait to get back on track."

Bradl reportedly underwent minor surgery on his foot recently and is recovering at home before preparing for the new season.