Taddy Blazusiak Wins AMA EnduroCross Crown
Chaparral Motorsports
|
November 21, 2011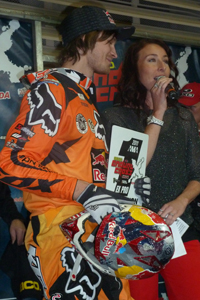 Red Bull/KTM Extreme Enduro Factory rider Taddy Blazusiak won his third consecutive AMA EnduroCross Title in front of a nearly sold out Las Vegas crowd completing a perfect season where he took all eight event wins.

Blazusiak did not miss a beat in the defense of his 2010 title. He came out swinging in the opening round taking a dominating win and went on to take every win after to complete a perfect undefeated season. His main competition this year was fellow KTM rider Mike Brown. The FMF/KTM rider landed on the podium multiple times throughout the season and was sitting second in points heading to the final round as the only rider that had a chance of taking the title from Blazusiak.

The Vegas round highlighted Blazusiak's remarkable talent as he easily won the second heat to transfer into the main. Brown matched Blazusiak's performance and took the win and the holeshot in heat number three. KTM Factory rider Johnny Walker came all the way from the United Kingdom to race in his first EnduroCross event. He is known for his out of nowhere podium at the 2011 Erzberg Hare Scramble event and is 2nd place result in the Red Bull Sea to Sky extreme Enduro and after a tough battle in the LCQ he pushed his KTM into the main event.

The Las Vegas Finale was unique in that it was a double-header format which allowed the riders to race two 10-lap main events for a total of 50 points up for grabs. When the main event gate dropped for moto one, it was Blazusiak who launched his KTM forward hopped over the first log and led the group around the first corner. Brown was sitting in the top three but made a mistake and dropped to 5th. Brown eventually moved up one position to finish 4th in the main event while Blazusiak went on to take the win and the 2011 AMA EnduroCross Championship.

"It has been a really crazy year. I am so happy to win the championship and to have a perfect season is amazing."
- Taddy Blazusiak
"It has been a really crazy year", remarked Blazusiak on the podium. "I am so happy to win the championship and to have a perfect season is amazing. It hasn't completely sunk in yet but I am so happy to have been the first to remain undefeated in the series and to wrap up my third consecutive championship."

After a quick break, the riders lined up for the second moto where Blazusiak quickly moved out front and went on to pull a big lead and take another easy event win to complete his perfect season. Brown had a much stronger second moto and charged his way into 3rd before the checkered flag. Brown's results earned him 2nd overall in the series, his strongest overall result this season.

Blazusiak was not the only KTM rider to win a main event at the Vegas finale. KTM riders stacked the podium in the Women's Pro class with KTM rider Louise Forsley taking the win followed by RPM/KTM rider Maria Forsberg and the newcomer Rachel Gutish in 3rd. KTM support rider Kurt Nicoll also earned an AMA #1 plate after taking the victory in the Vet Amateur race.

Blazusiak's championship title completes a clean sweep for KTM as the only manufacturer to have won every major national off-road championship. KTM factory riders have enjoyed a great off-road season in 2011 collecting the following titles:



AMA National Enduro Champion - Russell Bobbitt

AMA National Hare and Hound Champion - Kurt Caselli

WORCS Champion - Kurt Caselli

GNCC XC1 Champion - Charlie Mullins

GNCC XC2 Champion - Steward Baylor

WORCS Women's Champion - Kacy Martinez

GNCC Women's Champion - Maria Forsberg

All of the above championship titles have earned KTM riders a number of nominations at the American Motorcyclist Association Awards Banquet. KTM riders Taddy Blazusiak, Russell Bobbitt, Kurt Caselli and Charlie Mullins are nominated for AMA Racing Athlete of the Year in a National Championship Series. Maria Forsberg is nominated for AMA Racing Female Rider of the Year. The awards banquet will take place Sunday, November, 20th.

For more information on the AMA EnduroCross Series please visit www.endurocross.com