Jersey Shore Bikers Bring The Holidays To Hospitalized Kids
Chaparral Motorsports
|
November 21, 2011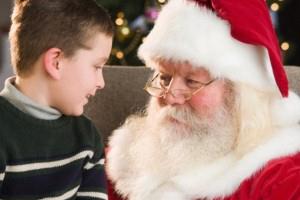 The Jersey Shore chapter of the Harley Owners Group (HOG) recently embarked on a mission to spread holiday cheer. The Asbury Park Press reports that about 150 bikers climbed aboard their bikes, donned motorcycle helmets and headed from the Atlantic Highlands Municipal Harbor to the Monmouth Medical Center to escort a very special guest to the children's wing of the healthcare facility.
The HOG riders and three Long Branch motorcycle police picked up a fire truck along the way that was carrying Santa Claus, Mrs. Claus and an elf to visit the sick kids in the Monmouth Medical Center.
"These kids are upset they are in the hospital to begin with," Susan Gioia, a 45-year-old woman from Middletown, New Jersey, told the APP. "To have something special, it gives them a smile."
The bikers and the guests of honor were met in the hospital lobby by a few of the kids from the 21-bed unit at the care center. They then went to see the other children in the ward, including Jenna Brownstein, an 18-year-old patient who was being treated for cystic fibrosis.
"I didn't think there was going to be anything for my age," she told the newspaper of receiving a double-headed dragon figurine. "It's like the coolest thing ever. I'm going to cuddle him."