Anthony West Returns To MotoGP
Chaparral Motorsports
|
November 21, 2011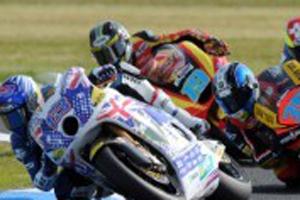 Australian racer Anthony West has announced that he will be making a return to MotoGP after a three year absence, competing on one of the new Claiming Rule Teams (CRT).
West's victories in World Supersport earned him the attention of the Kawasaki MotoGP team in mid-2007. When the team needed a replacement for Oliver Jacque, West got the call and finished the season. He stayed on the next year, in 2008, but could manage no higher than fifth place in any of his races. Kawasaki then opted to disband their MotoGP team and West went back to World Supersport.
He later signed a contract with MZ in Moto2, where he has competed for the past two seasons. Now, the rider will be joining forces with Speed Master, a Moto2 team that is taking advantage of the new CRT system to make the jump up to MotoGP.
Speed Master had a strong showing in Moto2, taking rider Andrea Iannone to third place overall. However, it doesn't appear that Iannone will be racing in MotoGP, with the team instead opting to go with the veteran West, who has the all-important experience in the elite competition.