Evolve Debuts Production "Tron" Replica
Chaparral Motorsports
|
November 15, 2011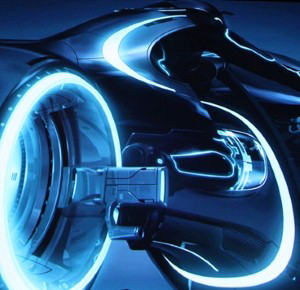 Those who have seen the "Tron" series of films know that they feature one of the coolest motorcycle-related ideas ever put to film: lightcycles. The programs that live in the computer world of these movies race each other on these futuristic machines, and now a real working one can be yours for the price of $55,000.

Last year, Parker Brothers Choppers made a limited run of Tron replicas, selling them for $35,000 on eBay. Evolve Motorcycles, an electric bike manufacturer, has taken that design and added an electric motor capable of reaching 100 miles per hour. The new Xenon has an average range of about 30 miles and looks to be straight out of the film.

Alternatively, drivers can go with the more traditional Lithium model, which looks like a normal street bike. It's also based on a Parker Brothers design and features the same specs, but will presumably be a cheaper buy, rumored to retail for about $20,000.

True Tron fans can supplement either purchase with their own Tron motorcycle gear. UD Replicas has debuted a line of motorcycle gear that apes the style of the films' characters, although that's also pricey - nearly $1,000 for a full suit.