BMW Unveils Two New Maxi-Scooters
Chaparral Motorsports
|
November 11, 2011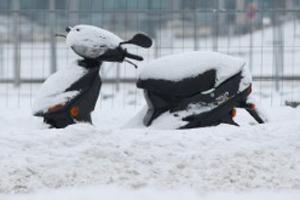 BMW recently unveiled two new scooters, the C 650 GT and the C 600 Sport, which are sure to please scooter enthusiasts, whether they prefer to cruise down the open road or zip around the city. When the German automaker first debuted the Concept C scooter in Milan last year, motorcycle fans couldn't help but speculate what type of engine would find its way into the luxury-class scooter.

The C 600 Sport might look like a street bike at first glance, and with a 647cc Parallel Twin engine this powerful scooter can easily stand up against plenty of motorcycles. The C 650 GT has the same engine, but all the added storage that makes it great for longer trips also makes it quite obviously a scooter. Both scooters were designed with tubular steel bridge frames to cut down on vibrations and provide a stable ride.

Drivers who usually put their scooters in storage when the weather turns cold but wish they could still ride in comfort will love the GT. BMW is offering optional motorcycle accessories to ease the chill of winter riding, including heated seats and grips.