Honda Crosstourer: A Sport Bike That Can Also Go Off-Roading
Chaparral Motorsports
|
November 10, 2011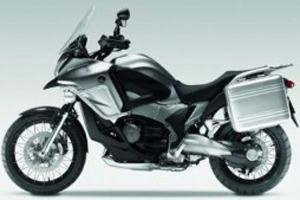 Honda Crosstourer
Honda has debuted a brand new bike at the EICMA show in Milan that is said to mix the sport bike and adventure touring classes of motorcycle.

The new Honda Crosstourer is somewhat similar to their previously-revealed VFR1200F, but differs in many ways as well. Those who have ridden the VFR will instantly recognize the dual clutch system and 1237cc engine.

But while the motorcycle may have the soul of a sport bike, it has the look and style of a touring model. There's a very noticeable section for storage add-ons on the back, much like other touring models. The model also uses an upright seating position, which makes it ideal for both city riding and off-roading.

The suspension and wheels are also tuned for rougher terrain, and Honda claims that the bike is suitable for adventures away from the pavement. The end result is an eye-catching hybrid of sport bike, tourer and adventure motorcycle.

For the bikers out there who simply can't limit themselves to one type of riding, it appears that the new Crosstourer has a lot to offer, both on-road and off. Honda hasn't announced a price yet, but the model is expected early next year.