Ducati Unveils 1199 Panigale
Chaparral Motorsports
|
November 9, 2011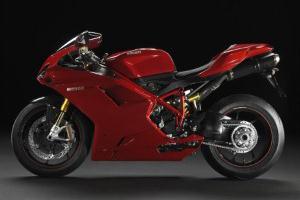 Ducati has pulled the lid off of its 1199 Panigale Superbike at the EICMA motorcycle show in Milan, Italy, showing off the highly-anticipated model to the assembled press.

The Italian manufacturer unveiled a trimmed-down bike that still boasts plenty of power. Ducati engineers worked on reducing the weight in nearly every aspect of the bike compared to previous Ducati Superbike efforts. However, the company still claims 195 horsepower for the 1200cc twin engine bike, which Ducati pointed out is close to the power available in some four-cylinder engines.

"All the other components around the bike have been redesigned. Everything has been weight reduction-centered," said Ducati General Manager Claudio Domenicali. "As far as I know, the 1199 is the lightest bike on the market."

The design of the bike is based off of the Desmosedici GP11 MotoGP, which is the bike used by Ducati riders in the famous motorsports competition.

The model will retail for $17,995, $22,995 for the "S" version, $23,995 for the "S" version with anti-lock brakes and $27,995 for the Panigale Tricolore S, which is a specially-painted edition that celebrates the 150th anniversary of the Italian flag.