2012 Factory FMF/KTM Racing Team Announced
Chaparral Motorsports
|
November 7, 2011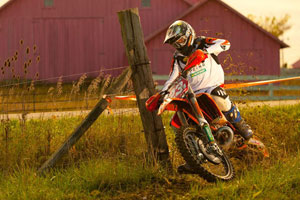 After celebrating more success and championships than any other off-road racing team during the 2011 season, the Factory FMF/KTM Racing Team is excited to announce its 2012 factory rider line-up will remain unchanged for the new season.

The team will feature reigning AMA National Enduro Champion Russell Bobbitt; reigning AMA National Hare & Hound Champion Kurt Caselli; current GNCC XC1 points leader Charlie Mullins; former 125cc Motocross National Champion Mike Brown; 2-time GNCC XC2 Lites Champion Kailub Russell and multi-time amateur GNCC Champion Cory Buttrick.

Three-time AMA National Enduro Champion Russell Bobbitt will contest the 2012 AMA National Enduro Series to defend his crown against teammates Charlie Mullins, Cory Buttrick and the rest of the field. Mullins and Buttrick will also compete in the 2012 GNCC Series along with Kailub Russell.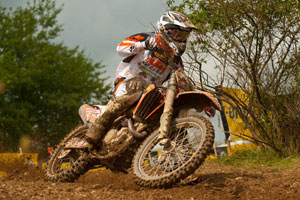 Mullins, finished 2nd overall in the AMA National Enduro Series in 2011 and is well on his way to earning his first GNCC XC1 class championship at this weekend's GNCC finale at Lorretta Lynn's ranch. His teammate, Cory Buttrick, landed on the podium this season before suffering a bad crash halfway through the series which left him out for the majority of the races and dropped his ranking in the overall point standings. Buttrick is hoping to end his season with a podium at the Loretta's event and come back swinging next year as he contests both the National Enduro and GNCC Series championships.

Russell, the final member of the east coast squad, will return for his second year in the XC1 GNCC class. Russell earned his first GNCC XC1 race win in his rookie season this year at the Powerline Park GNCC and is looking to earn more victories in 2012. In addition to racing the GNCC Series, Russell also intends to head west to compete in select WORCS events.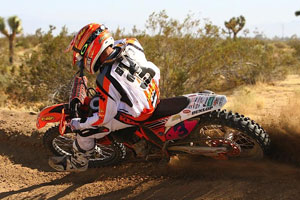 The Factory FMF/KTM Team has chosen Mike Brown as the lead rider in the WORCS Series. Brown, the 2009 WORCS Champion, is currently sitting 2nd overall in the 2011 points chase and is looking to close in on his teammate at the final round. In addition to his WORCS effort, Brown will also return to race the 2012 AMA EnduroCross Series.

Joining Brown on the west coast is 8-time ISDE Top American, Kurt Caselli. Earlier this year, Caselli wrapped up his first career AMA National Hare & Hound Championship title. Caselli is also leading the WORCS Championship and is hoping to win the title at this weekend's finale. For 2012, Caselli will return to the Hare & Hound Series to defend his title but will withdrawal from the WORCS in order to focus on a new goal: the Baja/SCORE Series. Caselli and his teammates plan to compete in all SCORE events next year in order to build toward the main goal of winning the Baja 1000.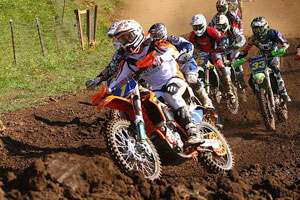 "We are very excited to have all of our riders return for the 2012 season. We have had a tremendous year thanks to the hard work of our team and the talent and determination of our riders to continue to claim the top spot on the box each event. I couldn't be happier as a team manager than I have been this year," remarked Factory FMF/KTM Team Manager Antti Kallonen. "In just two weeks time, we will know the outcome of all remaining championships, and if the cards fall our way, KTM will have made history for the second time by sweeping all major national off-road championship series titles.