Tech Tips - Advantages Of Motorcycle Trailers For Regular Transportation
Chaparral Motorsports
|
November 4, 2011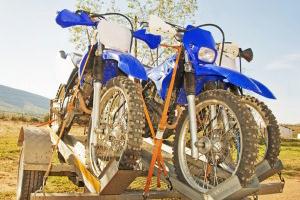 While many motorcycle enthusiasts will react poorly to the idea of using a trailer to transport their bikes to and from riding destinations, there is actually some merit in doing so. The motorcycle accessory can give riders the ability to bring their sport bikes to all sorts of locations that would be difficult to get to on two-wheels. For example, a trailer can give a rider the option of bringing their bike along for solo drives on a family trip.
"It used to be that most people only bought a trailer to take their bike in for repairs," explained Frank Esposito, the president of bike trailer manufacturer Kendon Industries. "Now the perception is growing that a trailer can provide a new dimension to their motorcycling experience as it increases the opportunity for adventure."
Not only does a trailer expand the possibilities for riding, it also cuts down on unnecessary wear and tear on motorcycle tires and parts. If riders transport their bikes in trailers, this reduces the risk of something going wrong with the bike on the way to the riding destination, and it creates extra storage space for motorcycle riding gear.