Hayes To Replace Edwards In Final MotoGP Race
Chaparral Motorsports
|
November 1, 2011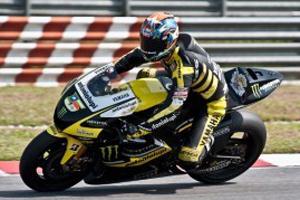 It took a tragedy, but Josh Hayes will finally realize his dream of competing in a MotoGP race.
Colin Edwards was severely injured in the recent MotoGP crash that took the life of Italian rider Marco Simoncelli. MotoGP canceled that race, but is moving ahead with the finale in Valencia. With Edwards unable to ride, it will be AMA Superbike champion Hayes making the jump to the world's premier sport.
Hayes was offered the chance to test Edwards bike after the race was over as a "thank you" from Yamaha for his success in AMA Superbike racing. With Edwards out, however, Hayes has been upgraded to full participant status, reports Cycle News.
The Superbike rider is undoubtedly a talented racer, but MotoGP is a different beast. Hayes will face an uphill battle - he's never raced on Bridgestone motorcycle tires, or used carbon brakes, and he's never actually ridden the M1 before. He'll have practice and tests to get acquainted with the bike before he hits the track.
When he was told he would be able to test the bike, Hayes said that he was happy for the chance to do so, because he wasn't sure if he'd be able to simply jump directly to a full race. Now, he'll have to overcome that at the upcoming Valencia competition.
Hayes has not yet publicly commented on the opportunity.