G-Train Salon Combines Art And Motorcycles For Unique Art Show
Chaparral Motorsports
|
October 26, 2011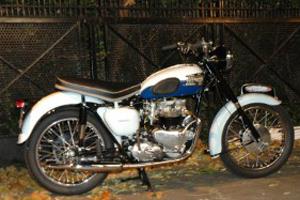 The Vax Moto Motorcycle Garage in Park Slope, Brooklyn, New York, is currently breaking the mechanic's mold by hosting an art exhibit right in the repair shop. The art exhibit, called the G-Train Salon, is a traveling exhibit that sets up shop in unusual places that juxtapose the collection of an emerging artist, Jason Steimer in this case. The collections are designed with specific settings in mind. In this case, Steimer created his artworks with motorcycle gear in mind.
"It's a very hardcore motorcycle man cave - I really just don't know how else to describe it," Justin Walters, the owner of Vax Moto, told the Brooklyn Paper. "To come walking through a full-blown motorcycle garage, with rows and rows of motorcycles and the smell of it all, and then to come into the art world is a phenomenal mix."
Art enthusiasts may want to don motorcycle jackets before they head to the garage to stand among street bikes, touring motorcycles and motorcycle parts while they take in Steimer's artwork. Time is running out to experience this unique art exhibit, as it will end on November 3, the news source reports.