Blazusiak Still Perfect In EnduroCross
Chaparral Motorsports
|
October 26, 2011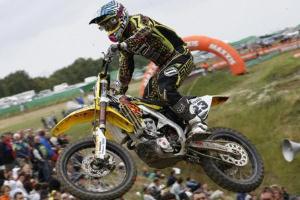 In motorsports, it's quite an accomplishment to win just one race. There are so many factors at play, including many which are out of a rider's control, that go into determining the outcome of a race. That's why when a rider strings together a series of wins, it's usually a sign that they're the best at what they do.
Taddy Blazusiak, riding in the GEICO AMA EnduroCross Series, is showing exactly that. The KTM competitor has won six races in a row, which makes up the entirety of the EnduroCross Series to this point. That means Blazusiak is undefeated and could potentially keep this streak alive for a perfect season - a rare feat in any sport, let alone motorcycle racing.
The indoor EnduroCross Series is something of a new phenomenon, with a unique track that mixes motocross and supercross sections, along with a bit of outdoor endurance racing. Blazusiak has proven to be the dominant rider so far, winning all six events in the series. The finale will be held in Las Vegas on November 19th, and will be a double main event, meaning that there will be two separate races in one weekend. If Blazusiak can win both, he'll have accomplished the perfect season.
Curiously, he may not win the championship. Blazusiak has a comfortable 53-point lead over his teammate, Mike Brown. However, it's not mathematically impossible for Brown to win. If Blazusiak got injured or crashed early on and Brown won both races, he could end up as the champion.