2012 Suzuki GSX-R1000 Launches
Chaparral Motorsports
|
October 26, 2011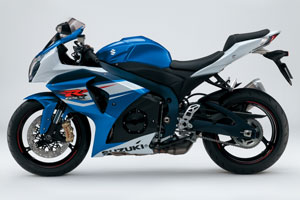 Suzuki's legendary GSX-R1000 Superbike has just got a whole lot better, as the new 2012 model incorporates elements learned from Suzuki's global race teams and on-track successes.

Information from the Suzuki MotoGP team and the GSV-R, through to Superbike and Supersport teams around the world have improved Suzuki's road-going machine following its hands-on R&D testing at the top level of global competition, which also includes World Endurance racing with reigning and ten-times World Champions, Suzuki Endurance Racing Team.

With refinements ranging from a new titanium 4-2-1 exhaust system, to completely redesigned pistons, the engine has quicker acceleration, crisper throttle response and improved fuel efficiency. The chassis, suspension and braking systems are also refined for enhanced performance and a reduction in weight by two kilograms.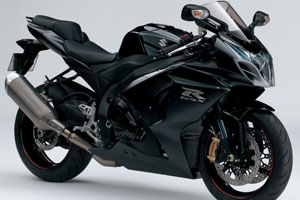 Suzuki's latest generation of the Championship-winning GSX-R machines that have dominated racetracks around the world, features new colors and a variety of new styling elements, including new instrumentation, new black fork tubes and new red pinstripes on the wheels. The GSX-R1000 offers incredible engine performance from idle to red line, smoother suspension performance, even more responsive handling and superior braking performance - everything needed to Own The Racetrack.

Engine highlights include the adoption of MotoGP-derived finite-element-analysis and fatigue-analysis techniques, which allow for newly-developed pistons that are now 11% lighter and aid acceleration and overall performance. This combined with a finer material for engine tappets shaves a further 2.5 grams off per tappet, resulting in optimized valve lift with a revised exhaust cam profile for a slight reduction in valve overlap. Compression ratio is also increased from 12.8:1 to 12.9:1.

Along with Brembo Monoblock calipers, the 2012 GSX-R1000 features further chassis enhancements that offer greater maneuverability thanks to a reduction in weight for the front tire and axle, offering superior unsprung weight advantages. This weight saving is increased with the return of the lightweight 4-2-1 exhaust system.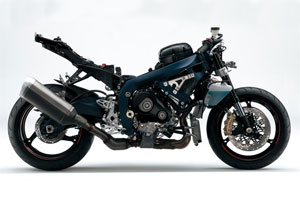 New Features:



Thanks to Suzuki's uncompromising efforts to shave excess weight, the 2012 GSX-R1000 is 2kg lighter than its predecessor.

The 4-2-1 exhaust system, carrying a Suzuki Exhaust Tuning (SET) valve maximizing torque and improving throttle response, particularly in the low-to-mid rpm range. Less weight at the back of the bike means better mass-centralization, which turns into better handling performance.

Lighter, more durable forged pistons designed with the same Finite Element Method (FEM) and fatigue analysis technology used for MotoGP racing engines, and consequently the pistons are 11% lighter.

New pentagonal shaped ventilation holes (instead of rectangular shape in previous model) in the sides of each cylinder bore reduce pumping losses due to internal crankcase air-pressure resistance to downward piston movement.

Optimized camshaft profiles for great racing potential, developed using proven MotoGP racing engine technology.

Optimally-shaped combustion chambers and an increased compression ratio of 12.9:1 (up from 12.8:1) promote low-range and mid-range performance and help to realize a broad torque curve.

Thinner material for the tappet skirts means a weight saving of 2.5 grams per tappet. The reduced inertial mass gave Suzuki the freedom to optimize the valve lift curve.

An engine control module (ECM) provides state-of-the-art engine management and has optimized settings to suit the single muffler which results in better fuel economy and linear throttle response.

The front disk brakes are equipped with the top-of-the-line radial-mount Brembo Monoblock calipers and lighter Sunstar Engineering front discs.

Big Piston Front forks (BPF) with an endurance-race-proven design deliver superior feedback and responsive, stable operation and are lightweight. For 2012, suspension settings are refined for the bike's lower weight and the shift in center of gravity.

The lightweight and high-grip front and rear tires reduce unsprung weight for sharp handling.

Attention to rider comfort includes a carefully-shaped seat with new high-grip leather for better holding feel.

The wheels have red pin stripes punctuated by "R" logos that highlight the bike's identity. The bike's identity is emphasized by bigger "GSX-R" graphics and more extensive use of Suzuki's signature blue color on the bodywork.

999cm3 4-cylinder engine with Bore x Stroke of 74.5mm x 57.3mm brings enhanced throttle response across the entire rpm range and high potential for racetrack performance. The compact engine enabled short wheelbase and 32mm long swingarm at the same time to improve racetrack performance.

Suzuki Composite Electrochemical Material (SCEM)-plated cylinders integrated into the upper crankcase, reduce friction and improving heat transfer, durability and ring seal.

12-hole fuel injectors produce a fine fuel mist for more complete combustion, reducing fuel consumption and exhaust emissions.

Suzuki Drive Mode Selector (S-DMS) offers push-button selection of three performance settings to suit riding conditions and personal tastes. The switch is located on the left handlebar control module.

Iridium spark plugs produce a strong spark for efficient combustion. Large, efficient radiator with a trapezoidal shape developed on Suzuki's factory team race bikes and a trapezoidal engine oil cooler both help reduce drag.

Race-proven back-torque-limiting clutch contributes to smoother downshifting and corner entry.

A lightweight and compact twin-spar frame made of five cast sections, mated with an arched swingarm made of three castings and one-piece die-cast rear sub frame.

The rear brake system with single-piston caliper contributes to a reduction of unsprung weight.

Rear shock absorber features adjustable rebound damping, spring preload, and both high-speed and low-speed compression damping.

Electronically controlled steering damper provides lighter steering at slower speeds and more damping force at racetrack and highway speeds.

Three-way adjustable footpegs, adjustable shift lever and short fuel tank give a more-comfortable and personally-suited riding position.

The edgy and clean GSX-R1000 styling incorporates fairing and bodywork details aimed at reducing turbulence and drag.

Distinctive multi-reflector headlight with vertically stacked high and low-beam halogen bulbs centered between position lights on each side.

On European models, the position lights each has layered lenses with blue coloring on the inside lens for an even sportier look.

Front and rear turn signals feature clear lenses over amber bulbs.

Instruments include a silver-ringed analogue tachometer with LCD speedometer. LCD readouts include odometer, dual trip meters, reserve trip meter, clock, coolant temperature/ oil pressure warning indicator, gear position indicator, lap timer/stopwatch, S-DMS setting indicator and bar-graph indicating the instrument lighting level, or brightness.

Optional single seat cowl can replace the tandem seat for an even more aggressive looks, solo rides or track days.

2012 GSX-R1000 Image Gallery: CLICK HERE TO DOWNLOAD