Mullins Wins Ironman GNCC
Chaparral Motorsports
|
October 25, 2011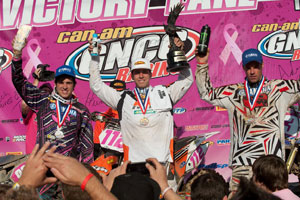 Factory FMF/KTM rider Charlie Mullins earned his fifth win of the season and strengthened his lead in the overall point standings when he took the victory at the Ironman GNCC.
Mullins started the race in second position behind Josh Strang. Mullins battled with Strang, Paul Whibley and his teammates Cory Buttrick and Kailub Russell in the first lap. At the end of the second lap Mullins had jumped into the lead with Whibley in tow and Buttrick in third. Mullins maintained his lead through the end of the race eventually pulling to a 30 second lead over Whibley for the win. Whibley was later docked with a 3 minute penalty which awarded second place to Thad Duvall and pushed Whibley to third. Buttrick ended up in 8th position after running out of gas on the fourth lap.
Buttrick was not the only one with a mid-race struggle. Russell, who had earned his first XC1 GNCC career win at the previous GNCC, also encountered some problems. He was running inside the top three until the third lap when he suffered from a mechanical issue. Unfortunately he had to return to the pits twice to get it sorted and ended up 11th for the day. The newly crowned AMA National Enduro Champion, Russell Bobbitt, made a guest appearance at this round and took home 6th place at the end of the day.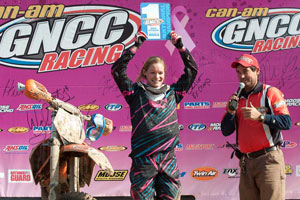 In the Women's class, RPM/KTM rider Maria Forsberg took another dominating win. She has already wrapped up the Women's Championship and was awarded with her number one plate at the Ironman GNCC.
In the XC2 class, point leader Steward Baylor, earned another victory to increase his championship points lead. This win was not as easy as his others. He made the pass for the lead on the final lap and raced wheel to wheel with Jordan Ashburn for the remainder of the lap to edge him out right at the finish for the win. Baylor now leads the XC2 class points by 52 points.
The riders will take a one week break before heading to Tennessee for the double-header finale. The first race will take place on Friday, November 4th while the second race will take place on Sunday, November 6th.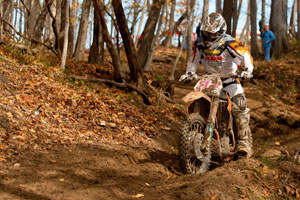 Overall Results - XC1 Class:
Charlie Mullins
Thad Duvall
Paul Whibley
Josh Strang
Jimmy Jarrett
Russell Bobbitt
Scott Watkins
Cory Buttrick
Eric Bailey
Nathan Kanney
Overall Point Standings - XC1 Class:
Charlie Mullins - 275
Joshua Strang - 237
Paul Whibley - 234
Kailub Russell - 190
Nathan Kanney - 171
Photography: Shan Moore