You're In Command - DynoJet Power Commander III EX USB Review
Chaparral Motorsports
|
October 21, 2011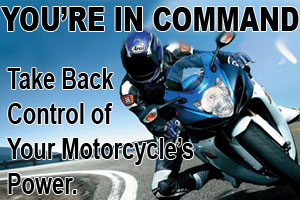 Take Back Control of Your Motorcycle's Power
The best thing about owning a motorcycle is making modifications to improve performance. The worst thing about owning a motorcycle is making modifications you hoped would improve performance, but instead simply lightened your wallet.

It's a machine, your motorcycle. And you're supposed to have complete control over it. Bolt on an exhaust system, add an air filter, and reap the performance rewards. It should be that easy. But in the name of electronics and digital engine management, you may have given up some control.

If that makes some of you long for carburetors and jet kits, you can still get your fill at motorcycle swap meets and vintage weekend events. Those of you who have fully embraced the digital age of motorcycling will be happy to know you can regain control. Computers can be your performance-tuning partner, especially when you're getting into modifications like exhaust systems.

[mageProductLink sku="pc1020-0398" title=""]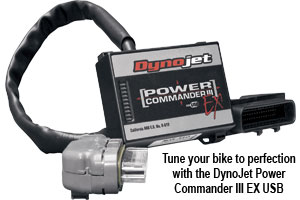 [/mageProductLink]

Onboard Computing Power Boost

"Doesn't my motorcycle's ECM (engine control module) already handle fuel-air management for best performance?" you ask. Your fuel-injected motorcycle came with a computer on board. And, yes, it will make adjustments, to a point.

The ECM gets signals from a variety of sensors on the bike, and it does adjust fuel-injection parameters as environmental conditions change. That means the stock ECM will help your bike adjust to changes in geography, giving it similar performance whether you are riding in San Diego or Denver. This ECM will compensate for things like a mildly dirty air filter, or even perhaps a new muffler.

It can only go so far, however. And even that new muffler might produce too drastic a change in airflow for your bike's stock ECM to manage. Your bike will still run, of course. It just won't run like it should, you've lost some control.

That's when you need an on-board super computer like the Power Commander. Made by Dynojet, a Power Commander (PC) can effectively tune your motorcycle to achieve the top performance possible from its existing components. More importantly, the PC itself can be easily updated anytime you desire, like when you do add that complete Yoshimura exhaust system and new air filter.

The [mageProductLink sku="pc1020-0398" title=""]Power Commander III USB-EX[/mageProductLink] is designed for nearly any fuel-injected motorcycle. A small microprocessor control box that mounts discriminately - like below a sportbike passenger seat, or under a cruiser's airbox - and wiring harnesses connect that processor to the motorcycle's electronics and fuel-injection controls. The PC III kit also includes necessary software and a USB cable for connection to a computer.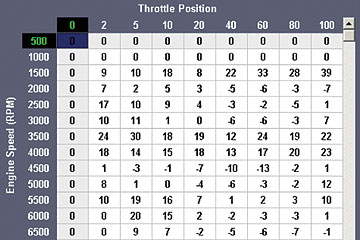 Why Do It? Tuning Benefits

Those who love mechanical fuel-management systems (a.k.a. "carburetors") do so because they can control fuel flow possibilities by swapping out a main jet and moving a small round clip. Think of the Dynojet Power Commander, then, as a robotic processor swapping carb jets about a million times a second while you ride. And when you want to (or need to) you can connect your computer to this processor for a whole new batch of jetting change mixtures.

Fuel-injection mapping possibilities are far more diverse than ever possible with carburetor jetting, of course. And perhaps the best feature available from Dynojet is the array of pre-programmed fuel maps ready to download to your motorcycle. The company has programmed maps for a variety of bikes with a range of aftermarket modifications.

Do you ride a Harley 1200 Sportster with a Vance & Hines Double Barrel exhaust and Screamin Eagles air filter? There's a map for that.

Do you ride a Yamaha R6 with a Graves full exhaust system and stock air filter? There's a map for that.

Do you ride a Ducati Monster 800 with an Arrow full exhaust system? Map for that, too.

You get the idea. You can download new maps anytime from powercommander.com, and simply download them to the PC III unit using the supplied USB cable. You can also custom-design your own fuel-injection mapping. This gives racers the capability to tune their bikes to specific track conditions.

Dynojet shows how it's all done through downloadable manuals and software support. The graph shown here depicts how your bike's air/fuel mix is managed according to engine RPM and throttle position. At 500-RPM increments and various throttle position percentages, the numbers on the chart depict either a richer (positive number) or leaner (negative number) fuel mixture. You can alter any of these settings to suit your performance desires. You can design maps for different riding environments and save them for future use.

Plus, the PC III USB-EX manages all this while meeting the strict emissions regulations set forth by the California Air Resources Board (CARB).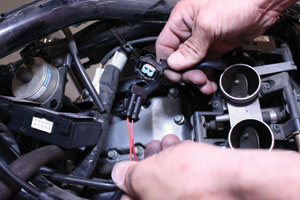 Installation Tips

If you can connect a hi-def digital video recorder to your TV and home stereo system, then you can easily install the PC III on your motorcycle. In fact, that home stereo job is probably more complicated. Installing the PC III is simply a matter of properly routing cables and connecting the new wiring harness to your bike's existing equipment. Then you mount the PC III control box using peel-and-stick tape included.

The installation process is different from sportbike to cruiser, and involves specific connection points and cable routing for each different motorcycle within those classes. Dynojet does a good job of providing step-by-step instructions with photos to guide you through the process for your bike.

The process will not require you to cut wires or do any soldering. It will simply require patience. Make sure you route wires carefully and attach the new PC III connectors exactly as instructed. On some sportbikes with two fuel injectors per cylinder - like the Suzuki GSX-Rs - you'll need to connect the PC III harnesses to the lower injectors' wiring connections. You'll also need to tap into a specific wire on the stock bike's throttle position sensor wiring harness. That, and properly grounding the unit - whether to the battery or directly to the motorcycle's frame - and the wiring is complete.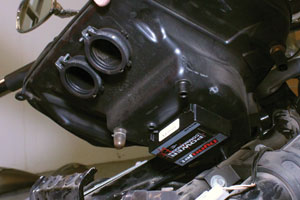 Enjoy Your Power

Your bike should instantly perform better with the PC III installed, and you may not need to do any more with it. But you will, of course, want to make further modifications, and download new fuel maps to install on your PC III. That will be easy to do on most sport bikes where the control box is easily accessed below the passenger seat.

We installed a PC III on a Suzuki Boulevard cruiser, mounting the control box below the bike's airbox. Access to the unit's USB port is not exactly easy, but on a bike like this, you're apt to make modifications far less frequently. And if you do want to change your cruiser's exhaust system, for example, you know you have the power to make it perform.