Edwards Clarifies Yamaha Position
Chaparral Motorsports
|
October 21, 2011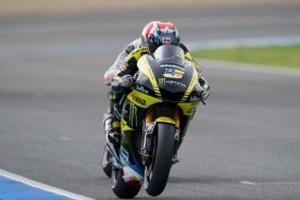 Colin Edwards was the fastest of the non-Honda bikes at the first test in Sepang, but the rider wasn't just a hot topic on the track. Off the track, the media has been devoting a lot of ink to Edwards' relationship with the Yamaha team.
Edwards was riding high in his last test for Yamaha, with both Jorge Lorenzo and Ben Spies out. He finished sixth overall in the tests, the best rider not on a Honda bike, which is deemed to have an advantage at this particular track.
Yet Edwards has been replaced on the team for next year by Andrea Dovizioso, and is moving on to one of the new Claiming Rule Teams, riding a BMW next year. He had hoped to use a Yamaha engine in the bike, but this plan was rejected by the factory. When Edwards told that to a journalist, many characterized him as taking a swipe at Yamaha.
However, Edwards took the time to clarify those remarks after the test.
"So obviously there's been some things in the media about, I don't know, Yamaha Europe that I've said this or said that," he told Cycle News. "At the end of the day, Yamaha, as a whole, have given me my livelihood. Given me lots of money to race motorcycles and Yamaha US, Yamaha period, are a part of my family, not just me a part of their family."