Brown Wins Adelanto WORCS Race
Chaparral Motorsports
|
October 21, 2011
Factory FMF/KTM rider Mike Brown won his second race of the season after earning both holeshots and leading every lap of both motos at the ninth round of the World Off-Road Championship Series (WORCS) held in Adelanto, CA.
Brown has always performed well at the Racetown 395 race course and this weekend's race was no exception. Brown was unbeatable in his journey to take the win. "I felt really strong this weekend and my bike performed flawlessly. It was a great weekend," remarked Brown.
On Saturday's race, while Brown got off to a great start and was leading the race out front, his teammate and series points' leader, Kurt Caselli was not as fortunate. Caselli was 2nd off the start, but got swapped out on the first lap and crashed at a high speed in the middle of the course. He and his bike were hit by other riders. Caselli recovered now riding with a hurt back and damage to his bike. He rode back to the pits to get the bike in running order losing many positions and time as they made repairs. At the end of the moto, Brown took the win and Caselli made a remarkable recovery to salvage an 8th place finish.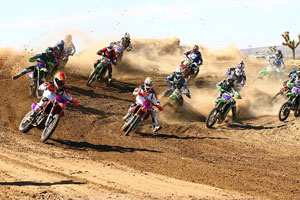 For Sunday's moto, the team had made all necessary repairs to Caselli's bike and he was ready to go again although a little sore from the previous day's crash. Brown jumped out front early and never looked back taking an easy win. Caselli started in 3rd and spent a large part of the race battling with Justin Soule for the position. With two laps remaining he was able to make the pass stick on Soule and went on to pull away from the rider to take the final podium spot. Caselli's 8-3 scores earned him 5th overall for the day.
Brown's event win moved him to 2nd place in the overall championship point's standings behind Caselli who still holds the lead.
In the Women's class, RPM/KTM rider Kacy Martinez took another win after making a last lap pass on fellow KTM rider Elizabeth Bash to move into the lead and take the victory. Her win strengthened her points lead and moved her one step closer to claiming another WORCS title.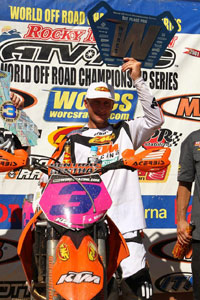 Next Event: Surprise, AZ - Speedworld MX Park - November 4-6, 2011
Overall Results:
Mike Brown
Bobby Garrison
Justin Soule
Gary Sutherlin
Kurt Caselli
Robby Bell
Ryan Abbatoye
Destry Abbott
Dustin Nelson
Ryan Reina
Overall Point Standings:
Kurt Caselli - 387
Mike Brown - 346
Bobby Garrison - 334
Taylor Roberts - 326
Justin Soule - 296
Photography: Amber Farmer