Body Protection Buyer's Guide - What's Right For You?
Chaparral Motorsports
|
October 19, 2011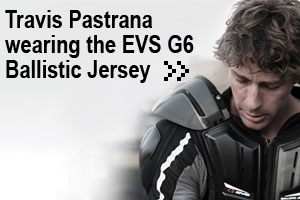 Sometimes - not very often, of course - but sometimes, getting suited up to ride can be a hassle. It's all worth it when you get out there, when you're enjoying the ride, and are well protected with all your gear. But going through the process with the chest protector and back protector and elbow pads and kidney belt and ... sometimes.

That's not the entire justification for these body-suit protection pieces, but it's a start. Some are called Jackets, some Jerseys, others are called Suits or Body Armor. The idea is the same: These garments incorporate all the necessary upper-body protection into one convenient piece.

Along with their different titles, these items vary in the style and level of protection they offer. But you may want to start with price, which begins as low as about $45 for the [mageProductLink sku="3004.1403" title=""]Thor Deflector[/mageProductLink]. Its molded foam protection pieces integrated into its pull-over design. Or you can move up to nearly $300 for the [mageProductLink sku="020-2702-0056" title=""]Alpinestars S-MX Bionic 2 Protection Jacket[/mageProductLink] with its C.E.-certified protection pieces including removable back protector.

While they can look a bit Transformer-y, you wear them under a jersey or even a light street jacket. This also makes them ideal as a warming layer for cold rides in the fall and winter months. We'll start near the top with one of our favorites.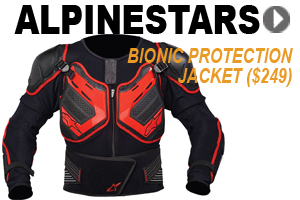 ALPINESTARS
[mageProductLink sku="020-2702-011" title=""]BIONIC PROTECTION JACKET[/mageProductLink] ($249)

The Alpinestars Bionic Protection Jacket includes some of the highest-quality protection pieces possible, it features several adjustment points for optimum fit, and it integrates with the company's Bionic Neck Support brace system (along with other neck braces).

This top-of-the-line protection garment starts with a stretchable mesh main body. Attached to that is an integrated kidney belt with long, wide straps. The vented chest-protection pads are made of molded polyurethane. Adjustment straps near the upper chest keep the fit just right.

The jacket's shoulder and elbow pads are CE certified, and straps at the forearms keep the elbow pads in the right place. The back protector is constructed using five plates to conform to the wearer, and is removable.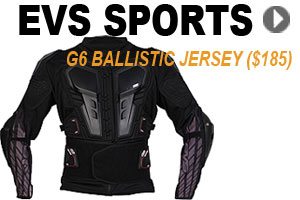 EVS SPORTS
[mageProductLink sku="110-724011" title=""]G6 BALLISTIC JERSEY[/mageProductLink] ($185)

The EVS Sports G6 uses injection-molded plastic protection pieces, including chest, back, shoulder and elbow guards. The chest protection covers a broad area, all the way down to the kidney belt (a Lite version costs $160 and has no kidney belt).

The spine protection and the large elbow cups pivot and articulate for form-fitting coverage. The jersey has a full-length front zipper, making it easy to put on.

The garment is made of light mesh fabric that stretches to fit well. And it's all machine washable.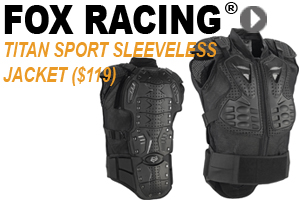 FOX RACING®
[mageProductLink sku="10056-001-003" title=""]TITAN SPORT SLEEVELESS JACKET[/mageProductLink] ($119)

Sleeveless jacket? Or vest? What's in a name? This piece provides complete torso protection. Arm protection is up to you.

It starts with a ballistic mesh fabric with stretch panels. Incorporated into that are hard-plastic protectors for chest, shoulders and back. The full-length spine protector uses "accordion-style" flex plates for conformity. This piece also has a built-in kidney belt.

It features several adjustment points to keep it snug. And it's machine washable.