History In The Re-Making: JT Racing MX Gear Reviews
Chaparral Motorsports
|
October 17, 2011
When you put on this motocross gear, your Dad is going to say, "Hey, is that my old gear from 1978?" And after you look at him like he's been sniffing the race gas, he'll add, "You know Danny Laporte was wearing that same gear - helmet, too - when he won the 500cc Championship in '79."

As you walk away, he'll continue talking about guys named Donnie Hansen, Chuck Sun, Broc Glover and other names you can no longer hear as you walk in to the garage. Of course, now that he's not looking, you can exhibit your pride, knowing you really are wearing the gear of champions.

JT Racing may have been absent over the last 10 years or so, the era where Motocross and Supercross grew into prime-time and big-money racing. But the company's impact on motocross riding gear and helmets was made long before, beginning in the late 1960s, when the Southern California company began manufacturing the most innovative gear motocross racers had ever seen.

For 2011, JT Racing returns to its MX roots, offering new riding pants, jerseys and an all-new helmet - all with the same attention to style and performance that made JT Racing the sport's biggest name for many years.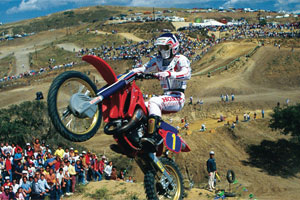 JT Racing History

John Gregory loved riding dirt bikes around Southern California's expansive desert riding areas back in the 1960s. When he discovered he had ideas to improve riding apparel, he and Rita, his wife, got to work creating JT Racing USA.

It wasn't long before JT became known as the leader in motocross riding apparel. JT lead the industry in apparel performance and style, and in the talent who wore the JT Racing gear.

The company was the first to make vented riding gear. The first to offer real style and a wide range of colors - including the pink gear worn by Broc Glover! And JT also created the first full-face helmet for motocross. JT's original ALS-2 helmet was introduced around 1982, and was the first MX helmet with a built-in chin bar; no more strap-on mouth guards. The helmet also had an integrated visor and a unique goggle-strap path to keep eye protection in place.

While the company may have faded from the MX scene in the early 2000s, vintage JT Racing gear is alive and well - and available on eBay. We saw a classic JT Racing chest protector in Honda Red with an asking price over $200.

New Gear

JT lead the industry in apparel performance and style, and in the talent who wore the JT Racing gear.
Vintage is nice to look at. But if you want to ride, you're in luck, too. JT Racing is back in 2011 with all-new riding gear, helmets and gloves for motocross riders. The 2011 JT Racing collection promises to continue where the company left off, with high-quality gear that leads in style and performance.

[mageProductLink sku="jt03100128" title=""]JT Racing's Classick riding pants[/mageProductLink] are filled with features designed to improve comfort and protection. They're designed with "strategic" flex areas, plus extra durable leather in the knees - which are cut to provide plenty of room for braces. The [mageProductLink sku="jt02100104" title=""]Pro Tour jersey[/mageProductLink] and [mageProductLink sku="jt04000107" title=""]gloves[/mageProductLink] are designed in a wide range of colors - even Glover's pink-and-white combo - and feature the classic JT Racing logo, while offering good comfort and necessary protection.

The company also brings back the ALS-2 helmet, fully updated with today's technology for protection, fit and comfort. This helmet is made with hand-laid fiberglass, and features an extra-large opening for goggles. Like the original JT helmets, this one gets lots of venting, plus the uniquely integrated visor. It's available in the same colors as the gear, with the inimitable JT Racing style.