Fly Trekker Dual Sport Adventure Helmet Review
Chaparral Motorsports
|
October 17, 2011
[mageProductLink sku="132-73-7000" title=""]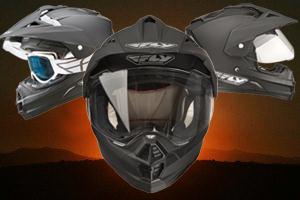 [/mageProductLink]
There are a wide variety of motorcycle helmets on the market, but not every product is designed for all riders. When selecting a helmet, motorcyclists must consider their own personal needs before committing to a particular model. The [mageProductLink sku="132-73-7000" title=""]Fly Trekker Dual Sport Adventure Helmet[/mageProductLink] is a good example of a helmet that will be perfect for some classes of motorcycle riders, but not all of them.
Fly is not necessarily a big name that all motorcyclists will immediately be aware of. However, fans of motocross and off-road racing will likely recognize the brand, as they sponsor a good amount of riders. The company has recently expanded beyond simply offering off-road products, and the Trekker Dual Sport is one of their products that are designed to appeal to street bike riders. The "Dual Sport" connotation means that the helmet is suitable for both regular riding and off-road use.
One of the things that riders will probably first notice is the sharp angles on the helmet, rather than the rounded look seen on some other models. The shell is slightly larger than the interior fit of the helmet, which may make it look a bit oversized in some cases. However, this doesn't affect the overall balance of the product.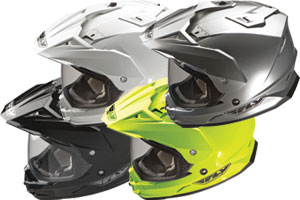 Aesthetically, the helmet is available in a wide variety of colors. Like most helmets, the Trekker Dual Sport comes in silver, black and white. However, a rider can really differentiate themselves with a [mageProductLink sku="132-73-7004-xs" title=""]bright neon-yellow tint[/mageProductLink] if they so choose. The vents on the helmet are colored to match the rest of the model, providing a unified overall look.
From a safety perspective, the helmet is built to both DOT and ECE standards, so riders know that they'll be getting the very best protection with this model. The overall quality of the material and solid feel of the helmet provides additional protection.
However, most riders know that a helmet really makes its reputation on the interior. This is, after all, where the rider's head will be going. The interior lining of the the helmet can be a bit rough and feel scratchy in high heat, but this is of course something the rider should try out for themselves. Make sure that the helmet fits snugly before you commit yourself to a purchase.
While the liner material may not be the best, there's plenty of room on the inside. Those who like to listen to music or use communication systems will have no trouble inserting ear speakers. There's also more than enough room for glasses within the face shield.
Dual sport style helmets are known for providing great visibility, as they have a more open area in the front compared to full-face helmets. Many riders describe the difference as night and day, which is why dual sport motorcycle helmets are becoming more and more popular. The Trekker is no exception, as it offers users exceptional visibility and plenty of breathing room.
Ventilation is another big area of concerns for riders, and fortunately the Trekker is well-built in this regard. Riders should get a good amount of airflow coming in through the chin vents and a decent amount from the back exhaust vents.
Motorcyclists who don't like a lot of noise when they ride will also appreciate this model, as it tends to block out much of the background noise that can occur while using a bike.
Overall, the Fly Trekker Dual Sport Adventure Helmet is a very strong choice for riders who are looking to do both off-roading and street riding.