Consumer Interest In Two-Wheeled Electric Vehicles Expected To Climb Dramatically
Chaparral Motorsports
|
October 17, 2011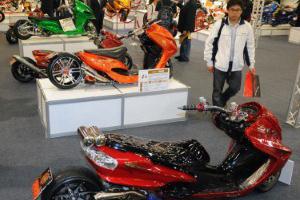 Most consumers in Europe and North America prefer passengers cars as their main mode of transportation. However, a recent study conducted by Pike Research indicates that this will change in coming years due to high gas prices, government incentives and more consumer awareness. The report projects that sales of electric scooters and motorcycles in Europe, Canada and the U.S. will increase sharply in the next six years.
"For now, sales numbers are low, but manufacturers of two-wheeled electric vehicles are finding specialty niches that will provide solid growth early on in the decade," explained senior analyst Dave Hurst. "E-scooters, for example, are effective for small parcel deliveries, while police forces are gravitating toward e-motorcycles to save money on fuel."
In Western Europe, sales are are expected to soar well above 120 percent for this market. Eastern European sales are expected to increase 138 percent in the next six years, and North American sales are expected to increase a bit more modestly at just over 71 percent growth by 2017.
An increase in electric motorcycle and scooter sales will also likely mean that motorcycle accessory sales will improve as well.