2011 Monster Energy Cup Results
Chaparral Motorsports
|
October 17, 2011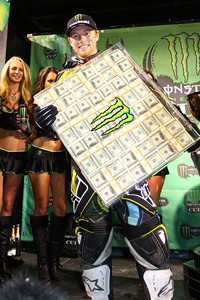 Villopoto wins $1 million at Monster Energy Cup
Many dismissed the Monster Energy Cup's $1 million payday as a publicity stunt, as it was seen as extremely unlikely that any one rider would win all three 10-lap events to take home the full million. But rider Ryan Villopoto, who won both the AMA Supercross and Motocross series this year, proved that he truly is the best in the world at what he does when he easily won all three races to take home one million bucks.

Villopoto pulled out to a comfortable lead in all three races, and was never really seriously challenged on the night. The hybrid track, built in Las Vegas, combined both motocross and supercross sections, which Villopoto has obviously demonstrated that he's pretty adept at.

The rider stammered over his words a bit after the podium before posing with his million dollars.

"I'm supposed to be on my honeymoon right now but I guess this is a good present for that. It's a cool one-off race and I'm a million dollars richer now," Villopoto told ESPN after the race. "It's been hell of a year for all of us. It will be hard to have another one of these."

Ryan Dungey, riding for KTM the first time, came in second overall with a third- and two second-place finishes.

Villopoto Cashes in on $1 Million at Inaugural Monster Energy Cup
Hill Captures Amateur All-Star Championship as Cianciarulo Claims Super-Mini Title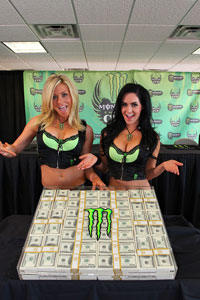 For the first-time in off-road motorcycle racing history, Monster Energy Kawasaki's Ryan Villopoto, of Poulsbo, Wash., won $1 million by sweeping all three main events at the inaugural Monster Energy Cup at Sam Boyd Stadium. Kawasaki's Adam Cianciarulo, of Port Orange, Fla., went 1-1 in the Super-Mini class and earned the overall championship. Justin Hill, of Yoncalla, Ore., finished 4-1 in the Amateur All-Star class and scored the overall.

"It's pretty unreal," exclaimed 2011 Monster Energy Cup champion Villopoto. "I'm happy we were able to pull it off. To back it up next year would be hard, so if we do, it would be great. I can't thank my team enough for this amazing victory."

In main event 1, Villopoto jumped out to an early lead with the holeshot followed by Monster Energy/Pro Circuit/Kawasaki's Ben Townley, of Taupo, New Zealand, Suzuki's Mike Alessi, of Victorville, Calif., Rockstar/Makita/Suzuki's Bret Metcalfe, of Menifee, Calif., and Red Bull/KTM's Ryan Dungey, of Belle Plaine, Minn. On lap 2, Dungey passed Alessi and Metcalfe in the same corner, moving into second place, where he would put a charge on Townley. Villopoto captured the win, Townley finished second and Dungey finished third.

Once again, Villopoto pulled the holeshot in main event 2 with Dungey and Metcalfe in tow. Villopoto set himself up to win the $1 million with another win. Dungey finished second and Metcalfe finished third.

"Heading into the final moto, I just need to get another good start like I've been doing," said Villopoto after the second main event. "I'll be happy leaving here healthy, and if I win, great, if not, this was still awesome."

Suzuki's Mike Alessi earned the holeshot in the third and final main event with Villopoto and Dungey following in second and third, respectively. On the opening lap, Villopoto moved into the lead. Dungey and Alessi traded positions on lap 2 before Dungey made a solid pass and opened a gap on him. Metcalfe moved into third. Dungey finished second, which gave him second overall and Metcalfe finished third, which gave him third overall.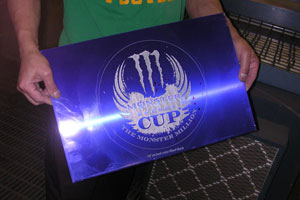 Cianciarulo opened the first Super-Mini moto with the holeshot and extended his lead with every lap. KTM's Cooper Webb, of Newport, N.C., moved into second place on lap three after passing Kawasaki's Blake Green, of Corona, Calif. Webb held on for second and Green finished third.

Cianciarulo started the second Super-Mini moto the same way he did the first one and lead wire-to-wire to earn the overall. Webb worked his way through the field and into second place, where he would finish. Green finished third.

"It was an awesome race," said Cianciarulo. "I got a good start, and tried to hold it. I had to make sure not leave the inside open and not make any mistakes out there. I never thought I would win, especially on a track designed by the two guys that got me here."

Honda's Zach Bell, of Cairo, Ga., opened a huge lead after earning the holeshot in the Amateur All-Star class' first moto. Cole Thompson, of Brigden, ON, finished second after passing Honda's Austin Politelli, of Menifee, Calif., who finished third. Green made a late-race pass around Kawasaki's Bradford Young, of Delray Beach, Fla., to finish third.

Justin Hill, of Yoncalla, Ore., put his Kawasaki up front in the second moto of the Amateur All-Star class with Politelli and Thomas Covington, of Temecula, Calif., in third. Thompson moved into third place on lap 2, passing Covington. Hill held on for the win, Politelli finished second and Thompson finished third. Overall, Politelli finished in second and Thompson finished in third.

"There was some great racing out there," said Hill. "I did my best to stay in front and keep it on two wheels. The track was tough, so you had to be on top of your game. I'm really excited to be crowned the Amateur All-Star Class champion."

Dungey Earns 2nd Overall in Debut Race on New KTM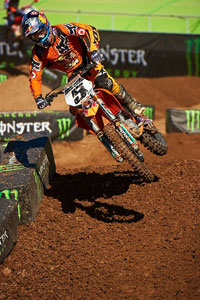 Red Bull/KTM Factory rider Ryan Dungey earned a remarkable 2nd place overall finish at his debut race on the KTM brand at the Monster Energy Cup held at Sam Boyd Stadium in Las Vegas, NV.

After only two weeks on the new KTM 450 SX-F, Dungey geared up for the inaugural Monster Energy Cup race and went to work to see where he stacked up against the competition on his new bike.

The day started well when he turned the fastest lap time in the final practice session and earned first gate pick in heat number one. Ryan got off to a third place start in his heat behind leader Brett Metcalfe and Eli Tomac. Dungey's teammate, Marvin Musquin, was sitting in 5th place on his KTM 350 SX-F. This race marked the first U.S. Supercross event for Musquin who was injured before the start of the 2011 Supercross season and unable to make his debut in his first year with the KTM team.

"I am very excited to be at this race," commented Musquin earlier in the day. "I love Supercross racing and am excited for the 2012 season to start and I feel this race will serve as a great warm-up to the season."

Musquin went on to finish 5th overall in the heat just one spot shy of qualifying straight to the main event. Dungey passed Tomac for 2nd with two laps to go and began to close the gap and pressure Metcalfe. On the final lap, Dungey moved on the rear wheel of Metcalfe and began to plan his pass. As they came under the tunnel, Metcalfe made a mistake and got sideways which allowed Dungey to get around and take over the lead. With two corners to go, Dungey pushed forward and took the heat win.

Musquin lined up for his semi where he started in 4th place and quickly passed into 3rd before the end of the first lap. He passed into 2nd on the next lap and held that spot to put his KTM in the main event.

The Monster Energy Cup was unique in offering the riders three main event races. Each main event consisted of ten laps and each moto counted toward the overall score. When the gate dropped for moto one, Dungey had a bad jump and got pushed to the back as they rounded the first corner. In an impressive push through the pack he managed to move himself into the top ten as they neared the second corner and then cut under a few guys again as they went around the back stretch of the track and moved his KTM into 5th as they headed back in the stadium through the sand whoops.

On lap three, Dungey made an important pass on Suzuki riders Metcalfe and Mike Alessi when he passed both of them over the same jump before the step up. Once in 3rd, he began to chase down the 2nd place ride of Ben Townley. He trailed Townley for the remainder of the race but was unable to move around him and settled for 3rd. Musquin moved from a 15th place start to an 8th place finish in moto one.

Moto two had a whole new beginning as Dungey jumped out front early and came around the first lap in 2nd place behind Ryan Villopoto. Musquin also started the second moto in a better position checking in 10th place at the end of lap one. Dungey was comfortable in 2nd and held a pretty good cushion on the rest of the field. He finished the second moto in that position while Musquin was able to move up two more positions and earn 8th for the moto.

With one moto left, Dungey blasted his KTM to another great start, this time coming around in 3rd place behind Ryan Villopoto and Mike Alessi. Unfortunately, Musquin suffered a crash in the first corner with Justin Brayton which caused him to start from dead last once recovered.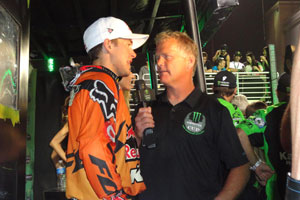 Dungey began to close on Alessi early in the final moto but the pass would not come easy. Alessi rode overly aggressive and proved difficult to pass. After being held up for two laps, Dungey was able to make the pass on Alessi over a double and began to pull away. Unfortunately, Villopoto had stretched to a pretty good lead and Dungey settled for 2nd. His 3-2-2 moto scores earned him 2nd overall in his debut race on the KTM.

"I am happy with my overall result today. Of course, you always want to win, but to come out here after only two weeks on the bike and get on the podium is very exciting. We have made great progress with the bike this weekend and we know how we need to move forward with our testing from here. I'm very happy with the team so far and am looking forward to the 2012 season."

Red Bull/KTM Factory Team Manager, Roger DeCoster, stated, "I was not so excited about coming to this race at first since we have only had two weeks on the bike, but I am glad I was convinced to come. This race gave us a good indication about what we have done well and where we need to improve. We have our work cut out for us during the next few months but I think our goal is feasible. Come Anaheim, I believe we will be in the hunt."

Next Event: Anaheim, CA - January 7, 2012 - AMA Supercross Round 1

SUZUKI PODIUMS AT MONSTER CUP SX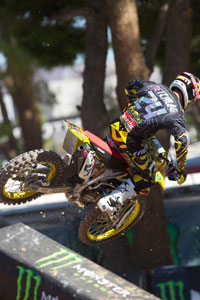 Team Rockstar Makita Suzuki celebrated a podium finish at the inaugural running of the Monster Energy Cup Supercross at Sam Boyd Stadium in Las Vegas on Saturday as Brett Metcalfe raced his Yoshimura-equipped Rockstar Makita Suzuki RM-Z450 to third overall.

This new stand-alone Supercross race capped off the 2011 season and incorporated both Motocross and Supercross styles in the lengthy track as well as the racing format. The hybrid track was the longest Supercross track ever built, and the format included Supercross heat races and main events, but the scoring was all Motocross: three 10-lap Open Class main events combined to provide riders with one overall best score.

"This was a really exciting race," said Metcalfe. "The whole Rockstar Makita Suzuki team worked great. It was really awesome to see the bike become better and better over the course of one day and seeing the team making all these changes in one race was incredible. We had a few practice sessions, and I was feeling pretty comfortable. The track was different than what I'm used to, so it was a little challenging at first. But by race time that night, I was ready to go."

The Rockstar Makita Suzuki rider started the night on a positive note by putting in an impressive ride in the first heat race. He got a great start on his Rockstar Makita Suzuki RM-Z450, led all the laps before making a small mistake at the end of the heat and finishing second. In the three main events, Metcalf continued to ride aggressively and focused races, finishing fourth in the first main, third in the second main and third in the final main. All of these results combined to hand Metcalf an impressive third-place finish overall.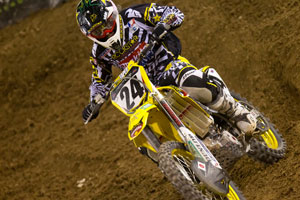 "All through the heat race, I led every lap until the last lap," said Metcalfe. "Then I spun out and lost a position. But I felt good going into the main events. I knew to do well and get up on the podium it would be key to get good starts. I was able to get three pretty good starts and really come out of the first corner in a good position each time. The Rockstar Makita Suzuki RM-Z450 was unreal out there; it worked awesome for me and I'm happy with third overall. Now we have the off-season to prepare for Supercross next year. We learned a lot this weekend that we can put to use in testing and come out ready next year."

Metcalfe and the Yoshimura Suzuki team will return for the start of the 2012 AMA Supercross season on Saturday, January 7, 2012, at Angel Stadium in Anaheim, California.

Monster Energy Cup Open Class Results:



Ryan Villopoto - Kawasaki (1, 1, 1)

Ryan Dungey - KTM (3, 2, 2)

Brett Metcalfe - Suzuki (4, 3, 3)

Martin Davalos - Suzuki (7, 7, 5)

Eli Tomac - Honda (5, 4, 10)

Kyle Chisolm - Yamaha (9, 9, 7)

Nick Wey - Kawasaki (14, 11, 4)

Jimmy Albertson - Yamaha (11, 10, 8)

Jake Weimer - Kawasaki (12, 6, 11)

Mike Alessi - Suzuki (6, 21, 6)

Monster Energy Cup Super-Mini Class Results:


Adam Cianciarulo - Kawasaki (1, 1)

Cooper Webb - KTM (2, 2)

Blake Green - Kawasaki (3, 3)

Bradford Young - Kawasaki (5, 4)

Mark Worth - Kawasaki (6, 6)

Ashton Hayes - Suzuki (7, 8)

Justin Hoeft - Suzuki (12, 7)

Shelby Peterson - Kawasaki (10, 10)

Chase Marquier - Suzuki (9, 12)

Andrew Pierce - Kawasaki (4, 18)

Monster Energy Cup Amateur All-Star Class Results:


Justin Hill - Kawasaki (4, 1)

Austin Politelli - Honda (3, 2)

Cole Thompson - Honda (2, 3)

Zachary Bell - Honda (1, 4)

Jessy Nelson - Honda (5, 7)

Thomas Covington - Kawasaki (8, 5)

Vann Martin - Honda (10, 8)

Dillan Epstein - Kawasaki (14, 6)

Steve Tokarski - Yamaha (7, 13)

Zach Williams - Honda (12, 9)